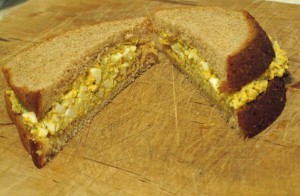 Every March, chickens everywhere work long hours cranking out tons of eggs just so you and I can boil, dye, hide, and in some cases, actually eat them. We reward these hardworking fowl later on in the year by frying them and eating their wings in hot sauce. It sucks to be them.
Not us, though. As the beneficiary of this one-sided dynamic, I'm pretty okay with it, so long as the chickens don't suffer much and keep dropping eggs. In fact, each Easter I look forward to turning the found eggs into egg salad, although I get a little tired of your standard mayo/eggs/salt/pepper version. That's why this year I came up with my own spicy version that replaces the mayonnaise with Sarayo umami sauce. It's a little sweet, has some kick, and since it has mayo in it, goes great in an egg salad. I also came up with two other recipes that I thought would be really good, but I haven't had a chance to try either one. If you do that, feel free to let us know how they came out.
Sarayo Egg Salad
1/4 cup Sarayo umami sauce
6 hard boiled eggs
2 cloves minced garlic
1/4 cup real bacon bits or chopped fried bacon
sea salt and fresh crushed black pepper (to taste)
6 slices of wheat bread
Peel the eggs, chop them up, and mix them in a bowl with everything but the bread. Spread the salad onto the bread to make three sandwiches. If you want it spicier than that, try mixing in a 1/4 cup of horseradish.
Serves: 3
Heat scale: Mild
Jalapeño and Avocado Egg Salad
3 sliced jalapeños
3 avocados
3 tablespoons mayonnaise
3 cloves of minced garlic
sea salt and crushed black pepper (to taste)
12 hard boiled eggs
24 slices of wheat bread
Subbing in avocado for mayonnaise in egg salad has worked really well for me. Avocados have a creamy consistency and are a lot healthier. I usually don't bother with the mayo when I'm making this, but this version is a good compromise if you absolutely must have that flavor in your egg salad. You chop up the avocados and eggs, then slice the peppers, and mix all of the salad fixings in a bowl, then serve it up on the bread.
Serves: 6-12
Heat Scale: Mild to Medium
Schultz's Gourmet Egg Salad
6 hard boiled eggs
1/2 cup of mayonnaise
2 teaspoons Schultz's Gourmet Hot Sauce
1/4 crumbled bleu cheese
sea salt and crushed black pepper (to taste)
12 slices of wheat bread
Mix the mayo and the Schultz's in advance, then combine it with the rest of the salad ingredients. Serve it as sandwiches.
Serves: 3-6
Heat Scale: Medium
The following two tabs change content below.
Managing Editor | Mark is a freelance journalist based out of Los Angeles. He's our Do-It-Yourself specialist, and happily agrees to try pretty much every twisted project we come up with.
Latest posts by Mark Masker (see all)