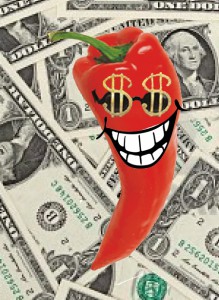 Disclaimer: Absolutely no hot sauce markets were hurt in the making of this good news. Sorry, folks, no big flaming explosions to see here. Just huge growth for the hot sauce industry. Yay us! Anyway, we recently came across this report on Yahoo! News.
According to IBISWorld, an industry and market research organization, their recently compiled list of the 10 industries that they expect to outpace the rest of the U.S. economy through 2017 placed hot sauce production at 7th, sandwiched between social network game development and green and sustainable building production. For all of us who love chile and other spicy foods this is great news.
By 2017, hot sauce production in the U.S. is expected to be a $1.3 billion industry, led by the McIlhenny Co.'s iconic Tabasco sauce. The industry has been heating up for the past 10 years, with average annual revenue growth of 9.3 percent a year, IBISWorld said. Demand for hot sauce has been driven by demographic consumption trends, immigration and international demand from Canada, the United Kingdom and Japan.
"Demand from supermarkets and grocery stores has reflected the change in consumer taste, and food retailers are dedicating more shelf space to ethnic cuisines," the report said. "Ethnic supermarkets —also growing rapidly — more prominently offer a variety of hot sauces than more traditional sauces."
Though hot sauce was not immune to the slowdown caused by the recession, rebounds in 2010 and 2011 re-established it as a rapidly growing part of the food sector. Over the next five years, IBISWorld estimates, industry revenue will grow at an average annual rate of 4.1 percent.
Other industries winning a spot of IBISWorld's top 10 list were generic pharmaceutical manufacturing, solar panel manufacturing, for-profit universities, Pilates and yoga studios, self-tanning product manufacturing, 3D printer manufacturing and online eyeglasses and contact lens sales.
Maybe this explains why so many people turned out for this year's Fiery Foods and Barbecue Show. While this news may make hot sauce and chile industry folks feel warm and fuzzy, let's not get ahead of ourselves. Seventh place is all well and good if you're French hot sauce, but this is America, damn it. We didn't win two world wars by coming in seventh place. Try harder, American hot sauce consumers. I fully expect you to move us up in the rankings next year. Now drop and give me twenty!
The following two tabs change content below.
Managing Editor | Mark is a freelance journalist based out of Los Angeles. He's our Do-It-Yourself specialist, and happily agrees to try pretty much every twisted project we come up with.
Latest posts by Mark Masker (see all)