Now that the economy is getting a teensy weensy bit better, you may find the death grip on your wallet loosening up a bit. If the spring shopping urge is upon you, take a look at these cool grilling gadgets we've found. You might even find a gift idea for Mother's Day. Because girls grill too.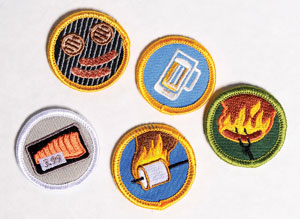 Demerit Badges: Foodie Tough Love!
Remember the good ol' days when kids were proud to earn their Scout badges? Ever light a campfire with such mountain-man skill, you felt like you made your old Scout leader proud? Well, now you can get that childhood feeling back—but this time, reward yourself for the kind of survival skills adults should hone. Demerit badges are the perfect way to celebrate the mistakes, mishaps, and misbehaviors of cooking! $3.95 each from Demeritwear.com.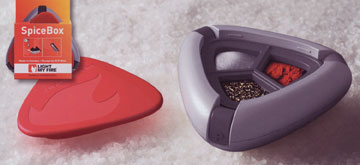 Be a Wilderness Gourmet with The Spice Box
We all know spice is the variety of life, but how do you take it camping? The Spice Box by Light My Fire carries your three favorite powdered chiles (or any other seasoning, for that matter) in waterproof, airtight, and shock resistant compartments. It's BPA free and it even floats. Made in Sweden (where everything is blonde and sexy), The Spice Box brings civilization to the wilderness, your picnic basket, lunchbox, boat, or backpack. $6.40 from REI and Sierra Trading Post.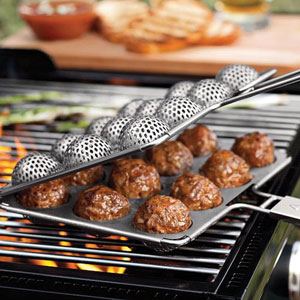 Meatball Grill Basket
Don't let the idea of putting your balls in a cage deter you: this sturdy stainless steel basket is the perfect way to give meatballs that smoky grilled taste. The handle is even removable to free up grill space and provide clearance for the grill lid. $50 for a meatball basket may seem a little high, but people love this thing. Of course, if you value your wallet over perfectly round meatballs, no one will think less of you for simply setting them on a grill rack or skewering them. Ouch!
$49.95 from Williams-Sonoma.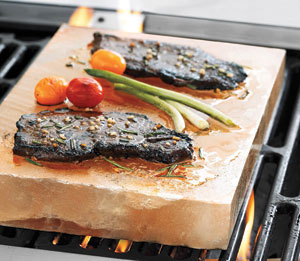 A Hunka Hunka Burnin' Salt
Make no mistake—this hand-cut slab of Pakistani Pink Himalayan salt is no mere salt lick. Thanks to the recent renaissance in the knowledge and use of salt, these babies are adding a new dimension to seasoning food. Use one of these salt plates in the oven or on the grill to sear, bake, and broil. Chill it in the freezer for a stunning new way to serve carpaccio or sushi; meat will lightly salt-cure, cooking the edges and giving the food a subtle saltiness. It's so pretty, you might decide to set on the windowsill and just ogle it! $29.95 from Sur la Table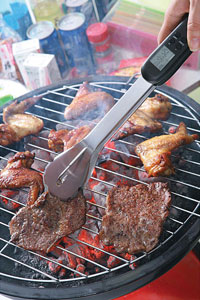 Admetior Digital BBQ Tongs and Thermometer
A lot can be said for convenience. Why buy two tools when one will do the job just as well? This combination tongs/meat thermometer from Admetior has a built-in instant read thermometer, which offers a quick and easy way to get the low-down on the temperature of whatever you're grilling. With a built-in LED flashlight for night cooking and a removable display for easy cleaning, this grilling tool is all about convenience. $24.99 on Amazon.com.
The following two tabs change content below.
Lois Manno
Lois is the Editorial Director of the Burn! Blog and the Fiery Foods & BBQ SuperSite.
Latest posts by Lois Manno (see all)