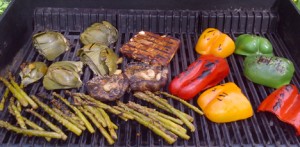 When my editor asked me to prepare an article featuring vegan cooking, I thought to myself, "Are you crazy? I'm a barbecue guy. My main food groups are pork, brisket and chicken!"
That being said I often grill vegetables as side dishes, so putting together a totally vegan menu wouldn't be too difficult. So I asked myself, if I didn't eat meat, seafood or shellfish, what would I want to have for dinner?
What I came up with was a diverse menu that would please vegans and meat-lovers alike: grilled artichokes with a chipotle aïoli as an appetizer, roasted sweet bell peppers, grilled asparagus, roasted portobello mushrooms (which actually have a meaty steak-like taste) with BBQ-infused tofu, and a roasted chipotle corn salsa with a cilantro garlic lime dressing.
Once you've done all of the prep, fire up your gas grill on high to clean the grates, brush them well, and then turn the grill down to medium-high heat. Everything on this menu is cooked at that temperature and the cooking is pretty fast. Most of the veggies take six to eight minutes to grill, although the tofu and mushrooms take longer. Overall, this little feast serves 2-4 people. For dessert, check out this little blueberry number.
Grilled Artichokes with Chipotle Aioli Dip
For the dip:
6 tablespoons vegetarian mayonnaise (Vegenaise or home-made)
2 tablespoons minced fresh cilantro
2 tablespoons minced red onion
2 tablespoons chopped chipotle in adobo
Juice of two limes (about 4 teaspoons)
1 teaspoon minced garlic (about 1 large clove)
1/4 teaspoon smoked hot paprika
Kosher salt and white pepper to taste
Combine all of the ingredients in a small bowl. Cover and refrigerate for at least one hour to allow the flavors to blend.
For the artichokes:
Two large artichokes or 8 baby artichokes
Lemon juice to taste
Chipotle powder to taste
1/4 cup lemon juice
3 tablespoons minced garlic
1 teaspoon crushed red pepper flakes
Using a chef's knife trim the stems off of the artichokes and remove the thorny tips from the leaves (cut about 1/2-inch off the top of the artichoke and use kitchen shears to trim the other leaves). Bring a large pot of water to a boil; add some lemon juice and chipotle powder to taste. Next, add the artichokes. If you're using large globe artichokes, cook them for about 20 minutes; if you're using baby artichokes, cook them for about seven minutes or until the bases are easily pierced with a knife. Remove the artichokes and shock them in an ice bath to stop the cooking. When they've cooled, drain the artichokes.
Cut the artichokes in half lengthwise and, if using large artichokes, use a spoon to remove the fibrous choke (baby artichokes are so tender the choke doesn't have to be removed). Marinate the artichokes in the 1/4-cup lemon juice, minced garlic and crushed red pepper flakes. Allow the artichokes to marinate for at least one hour or overnight in the refrigerator while covered. Either way, you'll want to grill the artichokes for 6 to 8 minutes or until they're tender, turning occasionally. Serve them on a small platter with the aioli in a side dish for scooping/dipping.
Roasted Sweet Bell Peppers
Two sweet bell peppers (yellow, orange or green)
Cut the peppers in half lengthwise and remove the veins and seeds. Place the halves on the heated grill for 6 to 8 minutes or until tender, turning occasionally If you want to go skinless, the skin can be removed by placing the peppers in a bowl and covering it with plastic wrap. Allow the peppers to steam for about ten minutes. The skins should peel right off after that.
Grilled Asparagus
15-20 stalks of asparagus
Break off the tough woody stems at the base of the asparagus and blanch the asparagus in salted water for about three minutes. Shock them in an ice bath to stop the cooking; drain the asparagus and place the stalks in a non-reactive container. Marinate the asparagus with some olive oil, balsamic vinegar and minced garlic for at least one hour. Grill them for 6-8 minutes or until tender, turning occasionally.
Portobello Mushrooms and Barbecue Tofu
Two large portobello (Cremini) mushrooms
Zesty Italian dressing
1 package of firm tofu
Your favorite barbecue sauce
Remove the stems from the mushrooms and scrape out the black gills. Put the mushrooms in a container and marinate them in the zesty Italian dressing for at least one hour.
Tofu (bean curd) is packaged in water and needs to be drained and pressed before grilling. To do this, remove the tofu from the packaging and place the block between several sheets of paper towels. Place a weight atop the tofu (I used a cast iron skillet). Allow the tofu to drain for a couple of hours. Transfer the tofu to a container and add enough of your favorite barbecue sauce to cover it. Marinate the tofu for a couple of hours or overnight in the refrigerator while covered.
Place the tofu on the grill and cook it until good grill marks appear on the underside of the tofu (about six minutes). Turn the tofu over and cook it another six to eight minutes. Remove the tofu from the grill and slice it into 1/4-inch thick pieces. Next, place the drained portobellos on the grill, gill side down, and cook for four minutes. Turn the mushroom over, add the slices of tofu, and cook until the mushrooms are tender, about another four minutes.
Roasted Chipotle Corn Salsa with Cilantro Garlic Lime Dressing
Chipotle Glaze (see below)
4 ears sweet corn
Cilantro Garlic Lime Dressing (see below)
For the chipotle glaze:
4 ounces olive oil or vegan "butter"
2 tablespoons ground chipotle (or 1 1/2 tablespoons chipotle in adobo, minced)
2 tablespoons fresh lime juice
1 tablespoon minced garlic
1/2 teaspoon kosher salt
Combine all the ingredients in a small mixing bowl.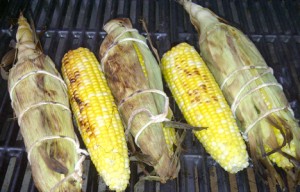 For the Grilled Corn (for salsa):
4 ears sweet corn (yield will be about 2 cups of kernels)
Chipotle glaze (see above)
Freshly ground black pepper
Carefully pull back the husks from the corn and remove all the silk (using a side towel or paper towel will help). Soak the corn in cold water for at least one hour. Remove, drain and dry the ears. Liberally spread the chipotle glaze on the corn and season it with the freshly ground black pepper. Pull the husks back onto the ears and secure with butcher's twine.
Prepare your grill for medium-high direct cooking. Grill the corn, turning occasionally, for about 15 to 20 minutes or until the kernels are soft. Remove the corn from the grill and let it cool. Shave the kernels from the cobs and reserve them.
For the Chipotle Garlic Lime dressing:
1/2 cup fresh chopped cilantro
1/4 cup olive oil
2 tablespoons lime juice
2 cloves roasted garlic
2 teaspoons hot sauce
1/2 teaspoon ground cumin
Coarse kosher salt and freshly ground black pepper, to taste
Combine the ingredients in a small food processor, then Pulse the food processor to combine it all. Transfer the dressing to a small bowl and reserve.
For the finished salsa:
2 cups chipotle glazed corn kernels
1/4 cup minced fresh cilantro
1/4 cup chopped sweet green bell pepper
1/4 cup chopped sweet red bell pepper
2 tablespoons minced jalapenos
1/4 cup minced red onion
Coarse kosher salt and freshly ground black pepper, to taste
Cilantro Garlic Lime dressing
Combine all of the ingredients in a non-reactive container, cover and refrigerate the salsa for at least one hour or up to one day.

Bonus Track 1:
Vegan and Vegetarian Tamales
If you've made the jump from carnivore to herbivore, you may have a hard time finding good tamales. Arizona Tamale Factory has that covered, though. The Southwest operation makes gourmet tamales with and without animals in them, in a lot of great flavors. They're made with gluten free ingredients, using certified organic non-GMO white corn masa and fresh local produce. Arizona's tamales are also made without using lard, shortening, soy and trans fats.
Bonus Track 2:
Spicy Avocado "Mayonnaise," from the Super Site
European sailors in the 1700s called this "midshipman's butter" because they liked to spread it on hardtack biscuits.  It's a great vegan substitute for mayonnaise because it has no eggs in it, and you can also use it as a sandwich spread, a condiment for grilled meats, or as a dip for veggies or chips.
2 ripe avocados, halved, pitted, scooped out of skins, and cubed
Large handful of fresh basil leaves
1/4 cup cilantro leaves
2 tablespoons extra virgin olive oil
2 teaspoon fresh lemon or lime juice
1 clove garlic, peeled and minced
Habanero hot sauce to taste
Sea salt and freshly ground black pepper to taste
Combine all the ingredients in a small food processor and blend until ingredients form a paste.
The following two tabs change content below.
Grilling & BBQ Editor | Mike holds a "Doctorate of Barbeque Philosophy" (Ph.B.) degree from the Kansas City Barbeque Society. His book Mastering Barbecue has been called the "go-to" book for BBQ knowledge.
Latest posts by Mike Stines (see all)