A few weeks ago I visited the Round Rock Market Days, just north of Austin, Texas. It seems like every little burg around here has these during the summer; lines of white tents surrounding the town square protect all kinds of artsy-fartsy vendors, produce purveyors, and their customers from the brutal sun. We got there early to beat both the heat and the crowds (these events are really popular). Of course, my eyes were drawn immediately to the various food vendors, which ranged from products like local honey to spicy Drippin' Sauce Ketchup from nearby Dripping Springs. But the product that stole my heart (and emptied my wallet) came from the Gourmet Texas Pasta Company.
Kim and Sean McDaniel have taken the idea of handmade, artisanal pasta and married it to spice, with incredible results. Their line has 20 different flavors, featuring combinations like bestseller Spinach, Basil, & Garlic Pasta, and Spicy Red Curry and Coconut Pasta. Owner Kim McDaniel boasts that her pastas have so much flavor, you don't even need to add sauce. Frankly, she's right. A bit of olive oil, a sprinkle of Parmesan, and you're good to go. But for traditionalists, they also have a line of pasta sauce, with great names like Vampire Repelling Chunky Garlic Marinara.
I tried the Roasted Garlic & Jalapeño Linguine and (of course) I couldn't pass up their Roasted Habanero Linguine. According to Kim, Gourmet Texas Pasta uses a special type of whole wheat that is very high in protein, which helps control the glycemic index—making it better for diabetics than typical semolina pasta. This is a good thing, since I was cooking for my diabetic brother and his wife. Dan likes him some spice, but Kay is definitely a lightweight, so I used the Roasted Habanero Linguine with a non-spicy topping of chicken picatta, so just in case it was truly incendiary, Kay wouldn't go hungry.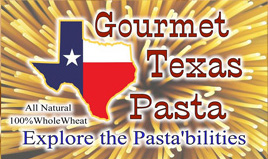 The linguine is a rich golden color, thanks to the red habaneros that Kim and her husband Sean buy in flats and roast before putting them into the pasta. The ingredients list is short and sweet: 100% whole durum wheat, roasted habanero peppers, garlic, beets, & spices (all vegan, BTW). The linguine took a bit more than the 6 minutes recommended on the package to reach the proper al dente texture, but it was well worth waiting for. The pasta had an incredible aroma all its own; you could actually smell the fruity hint of habanero. The label warns that this is their hottest product, so Kay tasted it with more than a bit of trepidation. She admitted that it was a little hot for her taste, but that she really liked the flavor. Dan and I, on the other hand, chowed down ecstatically, noses happily running.
Next we tried the Roasted Garlic & Jalapeño Linguine. Here's how it's described on the Gourmet Texas Pasta's website: To make our Roasted Garlic & Jalapeño Linguine, we start with crates of fresh jalapeños and garlic, toss them with a little olive oil and roast them in separate pans to bring out the rich flavor and cut back on the heat. The result is just spicy enough to tingle your tastebuds and keep you wanting more. Try this one with some grilled shrimp, a little mango salsa… a little Jimmy Buffet music and an Aloha shirt and you've got the makings for a beach bash anywhere, any time of the year.
Kay found this flavor much more to her liking, and I have to say that it wasn't really that much milder than the habanero linguine, but the heat was different. The habanero pasta filled my mouth with a full, rounded glow of heat; the jalapeño pasta had much more of a tip-of-the-tongue, slightly sharper heat…just like eating either of those two peppers will hit the tastebuds in different parts of the mouth, the pastas had the same effect.
In addition to the website www.gourmettexaspasta.com, the company also has a blog entitled Peace, Love, Pasta, where Kim shares product information, musings on food and life, and tasty recipes featuring—you guessed it—Gourmet Texas Pasta. I can't wait to try the Smoky Spicy Chipotle Linguine with some pulled pork. They even make a chocolate linguine for dessert. With the innovative flavors of Gourmet Texas Pasta in your foodie arsenal, it's easy to get creative!
Here's Kim's recipe for a spicy take on Pasta Carbonara from the Peace, Love, Pasta blog:
1 package Gourmet Texas Pasta, which you'll prepare according to directions
·   Kosher salt
·   6 slices thick-cut bacon, cut into 1/2-inch pieces
·   2 tablespoons extra-virgin olive oil
·   3 cloves garlic, crushed
·   1/2 teaspoon minced fresh rosemary (You CAN live without this if you need to. Don't go buy $4 worth of twigs and branches.)
·   1 or 2 red  jalapeño peppers, seeded and minced TO TASTE. (Use a dash of crushed red pepper flakes rather than go buy a fresh jalapeño, if that's easier.)
·   3 large eggs
·   3/4 cup freshly grated Parmesan cheese, plus more for garnish
·   1/2 cup freshly grated good Romano cheese
·   2 tablespoons chopped fresh parsley
·   Freshly ground pepper
Before you ask, YES, combine the bacon in the pan with the other ingredients. It marries the flavors remarkably.
Bring a large pot of salted water to a boil. Combine the bacon, olive oil, garlic, rosemary, jalapeños and 1/4 cup water in a large skillet. Cook over medium-high heat, stirring occasionally, until the water evaporates and the bacon crisps, about 12 minutes. Discard the garlic. Add the cognac, if desired, and cook until it evaporates. Remove from the heat and set aside 1/4 cup bacon mixture for garnish.
Meanwhile, cook the pasta in the boiling water as the label directs. Mix the eggs, cheeses, parsley and 1 teaspoon pepper in a bowl. Drain the pasta, reserving 1/4 cup cooking water.
Return the skillet to medium-high heat. Add the pasta and toss until heated through, 1 to 2 minutes. Remove from the heat. Whisk the reserved pasta water into the egg mixture, then quickly pour over the pasta and toss to gently cook the eggs and make a creamy sauce. Garnish with the reserved bacon mixture and more Parmesan.
The following two tabs change content below.
Lois Manno
Lois is the Editorial Director of the Burn! Blog and the Fiery Foods & BBQ SuperSite.
Latest posts by Lois Manno (see all)