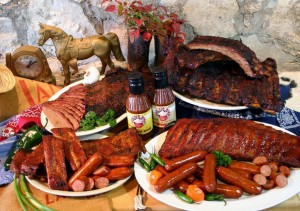 Like my holiday shopping, part three of our list comes later than it should and it's totally my fault. Between slaying fish near Kirimati with my folks for ten days, writing bike features for Hot Bike and Baggers magazines, shooting Harley Claus at Bartels Harley-Davidson, and other blog posts here, the list got pushed back until Lois finally put me in a pit and said, "It writes the list or else it gets the hose again." I agreed, she tossed me a laptop, and as soon as this post goes live, she's promised to let me out.
This final installment is a mixed bag of presents I'd like to get if I was on your Christmas list. These are various items I've either encountered over the last year or wish I had. As a courtesy to you, I've covered a gamut of prices for every budget. If you can't afford to buy me a Big Green Egg, I'll understand—eventually.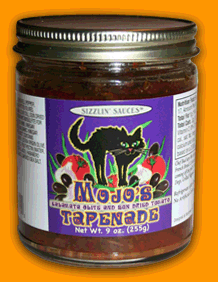 Sizzlin' Sauces Mojo's Tapenade
Chef Bud Selmi sent us some of this to play with two months ago and I ran out of it as soon as I could. It's a yummy blend of Kalamata olives and sun dried tomato relish that goes great on anything related to bread, meat, or veggies. His website also says it's great as a pizza topping. The next time I get my mitts on some, I'm going to test the hell out of that theory. Mojo's Tapenade comes in six ounce ($6.95) or eight ounce ($8.95) bottles although I don't recommend the six ounce. You'll run out so fast you'll regret being Scrooge-y.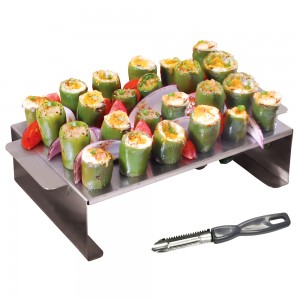 Home Wet Bar Large Jalapeño Poppers Pepper Roaster Plus Corer
Roasters make grilling chile peppers a lot easier and less messy than setting them on the grates, especially if you're filling them with cream cheese and garlic like I do. This pepper roaster and the included pepper corer ensures that whipping up jalapeño poppers is a spicy snap: simply cut off the stem, remove the seeds, insert your favorite fixings, and you're good to go. Holding a whopping 24 jalapeño poppers, this roasting rack is perfect for those families and friends that have become obsessed with the chile pepper popper. It's only $21.95.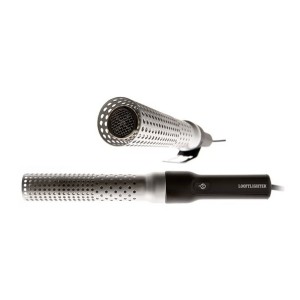 The Looftlighter
This is one of my all-time favorite charcoal grilling accessories. I first encountered the Looftlighter two years ago when the company gave us one for testing and it's a great way to start charcoal quickly without the taste of lighter fluid or having to dump and rearrange the coals like you do when you use a chimney starter. The Looftlighter can jump start coals in as little as 60 seconds although mine usually takes a couple of minutes. Its 9-foot cord gives you a good amount of distance between the outdoor electrical outlet and the grill, too. Also, it looks kind of like a lightsaber, so it's got that going for it too. Amazon.com carries it for $79.99.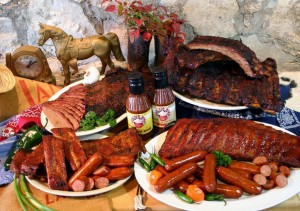 Air Ribs by The County Line
Air Ribs takes the Omaha Steaks concept to a whole new dimension of tasty. A happier place, full of smoke, barbecue sauce, and spicy. County Line meats are slow-smoked to allow aromatic hardwood flavors to penetrate the meat, and then each Air Rib portion is frozen and vacuum-packed to seal in the natural juices and flavors.
Air Ribs Bar-B-Q delicacies include:
custom-blend sausages:  German-style or jalapeño
20-hour slow-smoked beef brisket
baby back pork ribs; meaty beef ribs; St. Louie pork ribs
bone-in smoked turkey breast; whole plump smoked turkeys; smoked boneless peppered turkey breast
boneless smoked ham or honey-glazed spiral hams
smoked peppered boneless pork tenderloin; Canadian-style smoked boneless pork loin
Smokehouse combos—all smoked using County Line's time-honored, 30-year process
Air Ribs can be delivered to all 50 U.S. states; information and orders can be found at their website or by phone at 1-800-AIR -RIBS (247-7427), Monday through Friday, 9 a.m. to 5 p.m. (CST); holiday hours will vary. All credit cards accepted. Orders placed by 2 p.m. CST Monday through Wednesday can be shipped the next day for two-day delivery (or overnight upon request). Packages shipped to Hawaii and Alaska require a priority overnight service plus $15. Shipments outside the U.S. are NOT available at this time. Gift certificates/gift cards will be delivered via the U.S. Postal Service (allow 7-10 days for delivery). Orders close to Christmas holidays may require a few more days.
If you're worried about Air Ribs arriving at my place in time for Christmas, they offer a gift card alternative. You place the order for any specific food gifts, and County Line will send me a card that lets me know that there is a paid Air Ribs order waiting for me. All I need to do is call and let Air Ribs know when I want it delivered. Monetary gift certificates for $25 or more are also available. Obviously, pricing varies by what you order for me (or other recipients, if you're so inclined to shop for other people).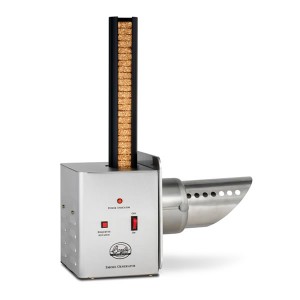 Bradley Smoke Generator with Adaptor
If you know a do-it-yourselfer who wants to build their own smoker, this is the perfect excuse to get started and give them a cool gadget in one fell swoop. Bradley's Stainless Steel Smoke Generator with Adaptor allows you to retrofit almost any small structure into a smoke house.
The unit consists of two parts. The Smoke Generator is identical to that which is supplied with the stainless steel Bradley Smoker. However, where the lugs would attach to the smoke tower, they instead attach to the face plate of the adaptor, which is also made of stainless steel. When fitted, the wall of the smoke-house structure fits between the faceplate and the collar and is intended to remain in place permanently while the Smoke Generator can be easily attached or removed when not in use. The unit uses Bradley's Flavor Bisquettes.
On their website, Bradley suggests using on old chest freezer stood upright with the lid for the door and a hole cut on the side for the adaptor. Personally, I want to try this toy on a steamer trunk lined with sheet metal, preferably some time next year. A blueprint to build your own smokehouse is included with the unit. You can buy it from Bradley for $169.99 plus shipping.
The following two tabs change content below.
Managing Editor | Mark is a freelance journalist based out of Los Angeles. He's our Do-It-Yourself specialist, and happily agrees to try pretty much every twisted project we come up with.
Latest posts by Mark Masker (see all)