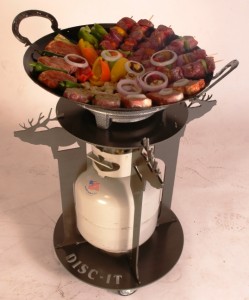 This marks the first time an elk has ever tried to kick me in the throat after it died.  All kinds of living things have threatened me with a good swift kick–mules, my dad, the judge, that nun at my pre-school–but up until now, never a dead animal. I know what you're thinking, and you can put away the shotgun. It wasn't a zombie elk. But hey, better luck next time, zombie fans.
The dead elk in question was ground into burger patties and the kick was courtesy of the spicy goodness infused within it thanks to some chorizo and special seasoning. See, Mike Frison stopped by Disc-It for a cooking demo using his Fri-B-Que Seasoning on some amazing Elk and Chorizo Burgers. You can see the demo here or if you just want the recipe for yourself, here you go:
Kick to the Throat Elk Burgers
Author:
Prep time:
Cook time:
Total time:
Ingredients
1lb ground elk
1lb ground beef
1 package (8 links) of Peyton's Chorizo (or brand of your choice)
Fri-B-Que Seasoning Rub– approximately 4 tablespoons
10-15 crackers, crumbled
4 eggs
2tbsp of salt, pepper, and garlic
Cheese
Hamburger buns
Lettuce, tomatoes, and onions
Instructions
In a large bowl, mix the ground elk, ground beef, and ground chorizo thoroughly.
Add in the 4 eggs and crackers, and mix together in the bowl.
Add salt, pepper, garlic, and Fri-B-Que seasoning.
Form into 5-inch diameter patties, about ¼ inch thick.
Turn the DISC-IT (or grill) on medium heat and add 1 tablespoon of oil to the disc and wipe the surface of the cooking disc.
Add the patties to the disc and cook for 4-5 minutes per side. Lightly cover each side of the patties with
additional Fri-B-Que seasoning.
Place the buns face down on the outer edge of the disc to toast the bun.
Add cheese to burger to melt. Serve with lettuce, tomatoes and onions.
The following two tabs change content below.
Managing Editor | Mark is a freelance journalist based out of Los Angeles. He's our Do-It-Yourself specialist, and happily agrees to try pretty much every twisted project we come up with.
Latest posts by Mark Masker (see all)