Writing and Photography by Dave Mau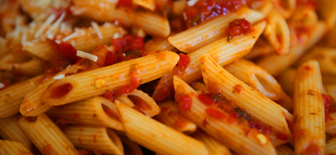 Arrabbiata is one of my favorite pasta courses, it is less well known than most but actually quite versatile. Meaning "angry" or "enraged" it really  has the opposite effect when enjoyed with a cool glass of dry white wine. I love it in cold weather, served piping hot with braised beef or roasted lamb. During the summer I let it cool off and top it with a bit of lemon zest and serve it with a nice chicken or fish course. The traditional recipe calls for a very basic red sauce spiced up with dried chiles and tossed with Penne. Aside from the great flavor it is wonderfully easy to prepare and is great the next day.
Now, let's talk sambal and see where it fits in the mix. Sambal is becoming more common, a spicy Malaysian chile paste that is widely used for a lot of Asian cuisine. You can find it in the Asian food aisle of any well-stocked grocery store. A generally straightforward mix of chiles, salt and vinegar (some have garlic and/or sugar), sambal can best be described as an Asian harrissa. It's different from Sriracha in that it is nice and chunky with lots of seeds and bits of chile. It makes for a great shortcut to Arrabbiata and here's the simple way to do it.
When Arrabbiata Meets Sambal
Author:
Prep time:
Cook time:
Total time:
Ingredients
1 1-pound box of Penne pasta
2 tbsp. Sambal Oelek
10 oz. of your favorite pasta sauce
Grated Parmesan, Pecorino Romano or Asiago cheese.
2 tbsp. extra virgin olive oil
Kosher salt
Instructions
Boil Penne in water with salt and olive oil until al dente.
Drain and return to pot, toss with Sambal, then pasta sauce.
Top with your favorite cheese and enjoy!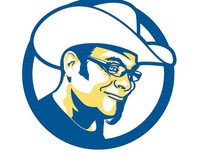 About Dave Mau: Dave's culinary talents have been honed by a lifetime of learning. His first lessons were by his father's side as a young boy; these were followed by years of restaurant industry work while earning his film degree. But it is at the Calvin Room in Huntington Beach where his reputation for indisputable talent exploded; the local music elite and their entourages, from Big Sandy to No Doubt, all seemed to end up at the house eating Dave's BBQ by the pool, night after night. He was also fortunate to travel with and photograph many bands from the OC, and worked at Linda's Doll hut, the seminal punk rock venue in Anaheim. You can follow his culinary adventures at the Dinner with Dave site.
The following two tabs change content below.
Managing Editor | Mark is a freelance journalist based out of Los Angeles. He's our Do-It-Yourself specialist, and happily agrees to try pretty much every twisted project we come up with.
Latest posts by Mark Masker (see all)