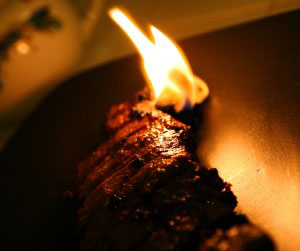 Writing and Photography by Dave Mau
Never having any formal culinary training has its advantages and disadvantages. The disadvantages are my costing is bad (but getting better) and a lot of commercial kitchen terminology fails me. The advantages are that my body of experience came to me organically and I don't really have any rules except my own. Some restaurant people do things in the kitchen that they consider thinking outside the box, with no formal training there isn't really any box to think outside of. I've developed my own screwball way of doing things that may perplex other chefs but it has developed naturally from me and my late brother Chris' time in the kitchen.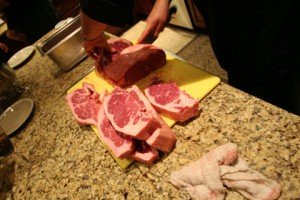 One such item is my New York strip. I break mine down just a little bit different than most. I don't like fat and gristle on my steaks, I'm not much of a rib eye guy (although I love it thin sliced and grilled Yakiniku style). Because of this I've always gravitated towards leaner cuts like NY strips and baseball cut top sirloins, the best example of the latter was from the now-defunct Sid's on old Newport Blvd here in the OC (but Stubriks in Fullerton gets close). I'm pretty humble about my cuisine but I'll stack my NY up against anybody's any day of the week.
I've tried coming up with a term for my way of breaking down a whole strip. Cowboy or California cut doesn't really do it justice although it is a distinctly western piece of beef. In the end it ends up looking like a sirloin strip or club steak with more marbling and a distinct bit of fat on one end.
The one thing that drives me nuts when I order a NY is when there is a big chunk of gristle on the side towards the narrow end. This can range from the slight inconvenience of a bit of inedible meat to a literally horse-knuckle sized piece of grossness. I've had some steakhouse experiences that were more akin to performing knee surgery than anything else. This piece of gristle is present on almost all NYs to some extent, the worst cases being "T" shaped and running perpendicular to the edge of the steak, sometimes protruding halfway into the loin. A poor trim will make or break a NY and here's the way I do mine.
You'll need:
1-Whole NY Strip (2×1 is best, if you don't know what that means don't worry, just ask for it)
A large cutting board
A large chef's or carving knife (12" blade is best)
Your favorite marinade
Place the whole loin fat cap up. On one end there might be a shallow pyramid-shaped piece of meat protruding. I don't know how this happens but I bet it's from sitting in a cryo pack. Your best bet is to knock a bit off both ends to get a square cut, reserve that meat for Carne Asada or stir-fry. I like a 16oz steak, so my cut is generous for sure. A good inch to inch and a quarter is about right in my book.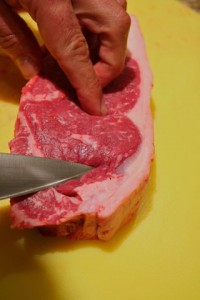 Start cutting from one end. Don't hack at it, try and use a slow, even motion as you carve. As you carve each steak set it aside on your board or on a platter, we'll be coming back to them shortly. In the end you should have a stack of 10-12 nice steaks. Grab one and let's do a little surgery.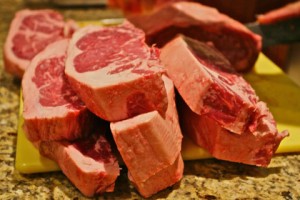 On one side you will see a strip of fat, and next to that, in between the fat and meat, is that pesky gristle. Lop that off with most of the fat but leave a bit for flavor. I trim most of the fat from the other end as well, leaving a quarter-sized bit at the end. Do this to all your steaks and slam them in your favorite marinade (or not). The one thing I love about this cut is serving them with the end piece of fat on fire straight off the grill. I do it at my shops and the looks on people's faces are priceless.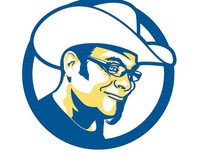 About Dave Mau: Dave's culinary talents have been honed by a lifetime of learning. His first lessons were by his father's side as a young boy; these were followed by years of restaurant industry work while earning his film degree. But it is at the Calvin Room in Huntington Beach where his reputation for indisputable talent exploded; the local music elite and their entourages, from Big Sandy to No Doubt, all seemed to end up at the house eating Dave's BBQ by the pool, night after night. He was also fortunate to travel with and photograph many bands from the OC, and worked at Linda's Doll hut, the seminal punk rock venue in Anaheim. You can follow his culinary adventures at the Dinner with Dave site.
The following two tabs change content below.
Managing Editor | Mark is a freelance journalist based out of Los Angeles. He's our Do-It-Yourself specialist, and happily agrees to try pretty much every twisted project we come up with.
Latest posts by Mark Masker (see all)