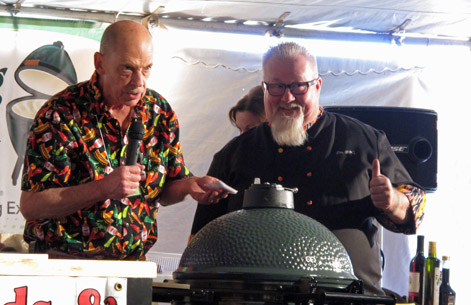 Twenty-five years, 500,000 superhots, and the Doctor makes a house call. That sums up the 25th Annual National Fiery Foods and Barbecue Show so fast it doesn't do justice to  what was really a three-day chile party at Sandia Resort & Casino March 1-3. If you read our last entry, you know there were 20,500 happy people there getting all hot and bothered on spicy food. If you didn't, well, now you know. This year's show was very ambitious, yet it went off extremely well. Not only did Sunbelt Shows rise to the momentous occasion, they made producing the historic event look easy (which it wasn't).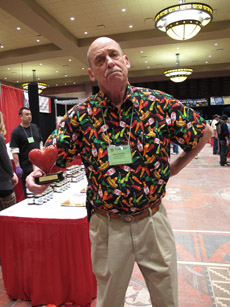 High Society
Dave DeWitt's book Growing Medical Marijuana Securely and Legally drew tons of attention. We never got tired of people asking us for "free samples" at the booth. Nope, that joke never got old. Huh? All kidding aside, Dave probably had to ice his hand after signing all of those copies. Between the medical marijuana book and his various chile titles, we had a much easier time breaking down the Sunbelt Media booth than we did putting it together. Most of his books went home with new owners.
Jennifer Trainer Thompson's Hot Sauce! Techniques for Making Signature Hot Sauces was pretty popular too. Not only was she in the house signing copies, she also showed us all how easy it is to make a quick, Carribbean-style mouth heater with two cooking demos Friday and Saturday at the Baillio's Cooking Tent just off the main floor.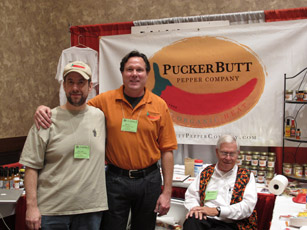 Ed Currie's 501k Plan
Ed Currie and his Pucker Butt Pepper Company were the hot topics of the Fiery Foods show. That's because while the show has a 25-year history behind it, he may very well be making it as we speak—with half a million superhot pods. Not just any pods, though. Over the last seven years, Ed's bred hotter and hotter pods, collecting data on his work along the way so he could submit it to Guinness for the superhot world record. The review is pending right now.
What this means, as James Wreck pointed out at the industry dinner last Saturday at El Pinto, is that if Ed succeeds, he'll have not just the title, but over 500,000 of the world's hottest peppers with which to exploit it.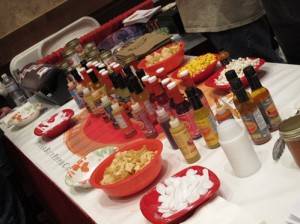 Personally, I wish Ed the best with it. He got into growing hot peppers after seeing a correlation between cultures that eat them and the low rates of cancer and heart disease within those cultures. His family has a predisposition for both of those health problems, and Ed Currie started growing and eating chiles to combat cancer himself. I had a lengthy conversation with him on all of this and I'll be posting an interview with him plus reviews of his products next week.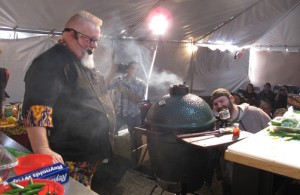 The Demos: Hot Grill-on-Grill Action
Dave DeWitt scheduled some fantastic cooking demos for the 25th anniversary and Chef Ethan Diness worked really hard realizing those ambitions. All year long, you could hear Dave's excitement in his voice whenever the cooking demos entered the conversation, with good reason. Attendees were treated to a range of topics ranging from tequila tastings to cooking demos and the flagship event, the Fiery Foods and Barbecue Great Grill-Off.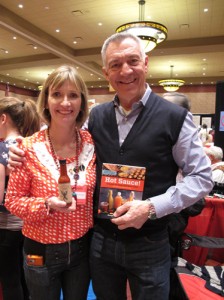 Mark Howard of Tequila Chamucos kicked off the the demonstrations with a nice introduction to his company's line of artisan tequilas Friday evening. Food author Jennifer Trainer Thompson followed with the first of her two demos on making hot sauce at home.
Saturday's exhibitions started with another bracing round of tequila tasting thanks to Tequila Revolucion. It was a good way warm up the crowd before amateur griller Judge Rod Kennedy and barbecue icon Ray "Dr. BBQ" Lampe took the stage to face off in Round One of the Grill-Off. Not only was pro pitted against enthusiast, the competition squared charcoal against propane to boot. The winner would go on to the finals to face the whoever won the second round later in the day. Each battle featured a different set of ingredients for the creation of a protein entree, a side, and a dessert, all within an hour. Judges scored each competitor with 100 total possible points on criteria like presentation, flavor, and method.
That first fight had John and Ray working their magic with duck for the entree. Both chefs did a great job, but when the smoke settled Ray Lampe emerged victorious. Between rounds, Jennifer Trainer Thompson conducted her second home hot sauce demo, giving tasters a healthy dose of Carribbean heat in the process.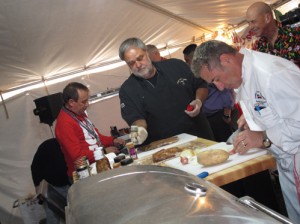 Grill-Off Round Two was all about Texas. Peter Mollett of Smokin' Texas Gourmet and Bill Milroy of Texas Rib Rangers went head-to-head with Bill's Epicoa charcoal rotisserie grill going against Peter on the gas. This time the combatants threw down with flank steak. An hour later the judges scored Bill the victor, setting up a head-to-head match between two veteran pros for the final on Sunday.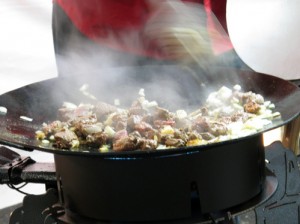 Shortly thereafter Michael Frison of Fri-B-Que and Disc-It's Nevin Montano flaunted their culinary skills with some great spicy beef tacos and caramel sliced apples for the Disc-It demo to finish off Saturday's exhibition.
Usually, starting off all your days with three hits of tequila makes you a prime candidate for blackouts and twelve-step programs, but things are a little different when you're at a three-day weekend show. Like the two days previous, Sunday kicked off with booze too. This time, Jim Garcia of Sadie's of New Mexico led the faithful at Tequila Church in the big tent, with a pretty informative "sermon" about the virtues of that sinful beverage.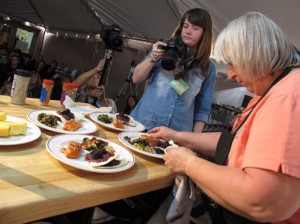 Then it was time for the big showdown. This time, charcoal was the only game in town as Bill Milroy and Ray Lampe got down to business. Both duelists were masters of their respective weapons; Bill distributes the Epicoa rotisserie grill he was using while Ray is the official spokeschef for Big Green Egg. The next hour promised to be a great battle in the culinary arena.
And it was.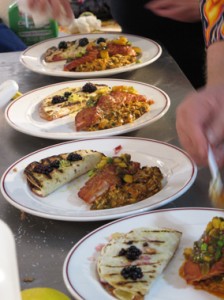 Dave unveiled sockeye salmon as the entree and the fight got under way. The friendly jibes flew between the two chefs almost as fast as their hands transformed piles of raw food into finished grilled yumminess. Bill and his wife, Barbara, were the two moving parts in the well-oiled machine that's the center of Texas Rib Rangers, while Ray moved with the swift confidence of someone who's completely in the zone. He finished plating just slightly ahead of Bill and Barbara, though.
The judging was pretty close, too. In the end, Ray took home the champion's banner and gift basket with a final score of 338 to Bill's 317.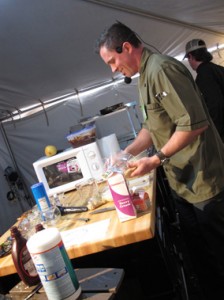 Afterward, Chef Shawn Weed took the stage and gave a fun presentation on chile-spiced chocolate. There's a myth that combining these two elements is a difficult process. He busted that myth with little more than a microwave oven and a sense of humor. It was a great way to end the stage portion of the show.
Food competitions, like concerts, are much better seen live than on TV. Yes, we have video of the competitions and demos, and yes, it'll be on YouTube in the coming weeks. It'll show you what happened and give you a decent approximation of how well these chefs all worked at what they did. What video has a hard time conveying is the sheer confidence they exuded while transforming a few ingredients into great meals on the fly. Over the next week, we'll be sharing all of the recipes demo'ed at the Fiery Foods show here on the blog so you kids can try them at home.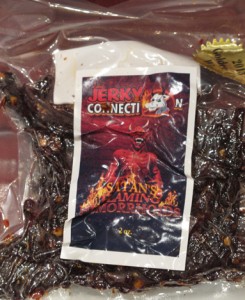 Mark Masker: Lab Rat
I'll also be bringing you product reviews and recipes using some of the cool products we found at the show from sauces to tools. There were a lot of interesting folks at the show with backgrounds to match. You'll be hearing all about them and what the make in the weeks to come. And I'm grateful to be the lab rat experimenting with them.
Want to see more? Check out our photo albums on the Burn! blog and National Fiery Foods and Barbecue Show Facebook pages.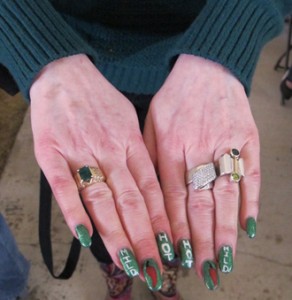 The following two tabs change content below.
Managing Editor | Mark is a freelance journalist based out of Los Angeles. He's our Do-It-Yourself specialist, and happily agrees to try pretty much every twisted project we come up with.
Latest posts by Mark Masker (see all)