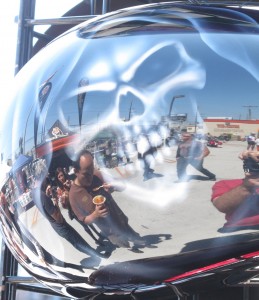 Thirteen years ago, when I was an extremely green rookie motojournalist for Hot Rod Bikes magazine, I found out about the happy marriage of Harleys and chili while wolfing down a bowl of the stuff at the annual custom bike show during the Laughlin River Run. I knew the two were a natural match but it took me a second to figure out why. Both are customizable American icons and nothing complements a long day on the road like a quick bite of good food. Why wouldn't they be a great fit?
Fast forward to the 10th Annual Bartels Harley-Davidson Chili Cook-off in sunny Marina del Rey, California this April 21st. It's a freestyle no-holds-barred competition set at one of the largest Harley dealerships in the world. The joint was jumping as tons of bikers stopped in to sample free chili from 13 different teams from 11 am to 3 pm.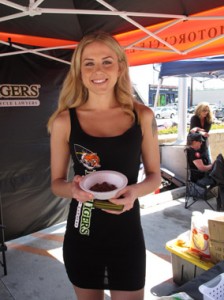 Because the contest wasn't sanctioned by some governing body like the National Chili Society, contestants were free to open fire with whatever heat-laden pot of meat lava they could dream up. Entries ran the whole mild-to-wild gamut; some had a hint of spice, one had more kick than a Texas mule on bath salts (I'm looking at you Black Sheep's Super Chili). Basically, the only hard rule was, "don't suck." That and the teams weren't allowed to cook anything in advance. Each was given a 10-foot space in which to set up their tent, a table, and their propane stove. Providing free samples to the public was required although if you ran short, no one blamed you for holding a little in reserve for the judging.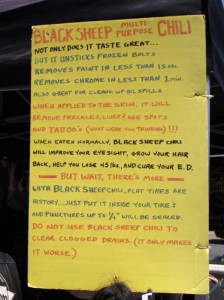 By the time I got there at 11:30, the place was already crowded with plenty of riders roaming the booths. Naturally, many of them had ridden in on a wide variety of iron. There were at least two early Panhead choppers, a ton of baggers (naturally), and a good general mix of stock and custom bikes. There were even a few Vespa scooters.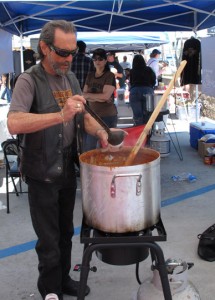 That afternoon, the judges got their paws on thirteen varieties of chili. Once the dust would settle, three competitors would claim Bartels gift certificates. The rest had nice big pots of yummy chili in which to drown their sorrows. And that ain't half bad.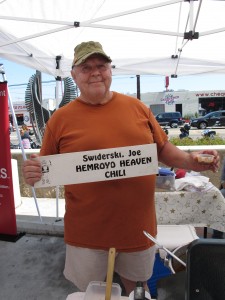 The following two tabs change content below.
Managing Editor | Mark is a freelance journalist based out of Los Angeles. He's our Do-It-Yourself specialist, and happily agrees to try pretty much every twisted project we come up with.
Latest posts by Mark Masker (see all)