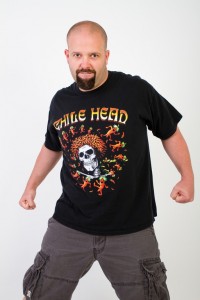 That was the one question I didn't ask eatmoreheat.com and iBurn frontman James Beck when I picked his brain bucket about he and the Mr. Hyde to his Dr. Jekyl, James Wreck. Truth to tell, I was scared of the answer.
Although Mr. Beck's involvement in the chile pepper industry only extends four or five years back, he's managed to build quite a name for himself, eatmoreheat.com, and now, iBurn. Usually he's the one asking the questions but through the timely use of a stripper, a tranquilizer gun, and some duct tape, I was able to turn the dynamic around and get him to talk.
BB: How much of the persona is part of the person?
JB: "The part of me that hasn't made it out of college yet. It's just one of those things where we do some pretty obnoxious stuff and using the persona is a way to distance the wild and crazy stuff from the legitimate side where we're focusing on the hot sauce shop and being competitive in the market. If people thought they were dealing with some prepubescent jackass, we'd not get very far."
BB: Why hot sauce and chile peppers?
JB: "What got me going with Eat More Heat was I wanted to get into something online with a website, something I could get passionate about, and make my little corner of the internet. Fiery foods was what I could constantly live and breathe. I had no clue this was going to explode the way it did. I had no idea the way we presented the industry would appeal to people. It's really been a roller coaster. If you'd told me five years ago my life would be based around chile peppers and I'd be running a hot sauce shop, I'd have laughed at you."
BB: I saw on your FB page you were going to stop the live casts. Why?
JB: "For now. It all centered around the fact stickam went out of business. We had something with stickam that couldn't be found on internet. They loved our concept and featured us on their front page whenever we went live. And for free. The closure forced us to go look at more corporate sites that didn't care about our industry and working with them became cost prohibitive almost immediately. Essentially, we're on hiatus, depending on us finding another live streaming site that lets us run similar to what we had with stickam."
BB: What pisses you off the most in the industry?
JB: "The cattiness. The high school, political, childish games people want to play with each other. It really is high school at times. Who's friends with who, who doesn't like who, the backstabbing. It's pathetic. What I like is that three or four years ago, everyone thought our industry was too small. A lot has been directed at me and how we market ourselves and make our point. I'm focusing on distancing myself and more toward the creativity and creative brands in the industry."
BB: What makes a great hot sauce for you?
JB: "Balance. Always. That's never changed. It's great to have heat but too much masks the flavor. I do believe there's too much of good thing when it comes to hot sauces. You want the nice sting but not so miserable from it you can barely enjoy it."
BB: Any plan to go into barbecue?
JB: "We plan on expanding. We already kind of are with iBurn. We're expanding daily, looking for new stuff every day. Part of it is that barbecue uses a lot of the same components so it goes hand in hand with fiery foods."
BB: Will there be a hot sauce with your name on it?
JB: "Not produced by me. I honestly think that the reviewers who don't have their own brand who put their names on products, it's an ego thing. Mine's on a jerky and they approached me. They thought it would be vicious enough to hurt me. The deal was if I could eat it without being phased, they'd do it. I ate the whole bag so I guess they felt I'd earned it."
BB: Give us the iBurn origin story.
JB: "It's actually one of those stories where I put the cart before horse. I'd been looking for a creative, short name I could use for a site. I wanted to expand Eat More Heat. I got into a domain auction site where I could get an alert if a domain I wanted was available and got lucky when iBurn became available. So I sat on it for two years thinking about what to do with it—mobile app, other ideas. We decided we needed way to pay the bills and ads weren't the way to go due to their impact on our impartiality. If someone's paying for a banner and comes out with a new product, obviously I can't give it a bad review. That's why I decided iBurn had to generate income from the whole industry or not at all. Opening a hot sauce site with a store does that since we sell all sauces and not just some."
BB: Proudest moment in the business?
JB: "I guess just the success of the live broadcasts. We'd gotten almost two million all time live views. Not everyone became a fan because of us but giving the industry that much exposure online was amazing. Exposing people to independent sauces who'd normally buy mass produced hot sauce at local grocery store to the industry."
BB: Worst moment?
JB: "I'm sure my haters could mention some but nothing's been catastrophic enough to where I'd say, 'Oh gosh, I wish that'd never happened.'"
The following two tabs change content below.
Managing Editor | Mark is a freelance journalist based out of Los Angeles. He's our Do-It-Yourself specialist, and happily agrees to try pretty much every twisted project we come up with.
Latest posts by Mark Masker (see all)