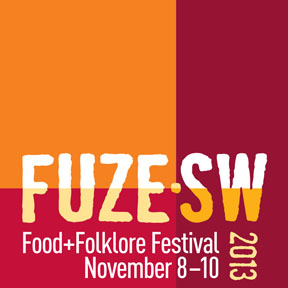 Fuze.SW 2013, Santa Fe's first-ever food conference of its kind, takes place at the Museum of International Folk Art the weekend of November 8—10, 2013. James Beard Award-winning authors and chefs from across the US will gather with leading historians, archaeologists, cultural commentators, and folklorists to discuss and demonstrate how traditions and techniques from diverse heritages have intersected to create a culinary tradition uniquely New Mexican (and transported globally). Our own Dave DeWitt is among the special guests scheduled to present.
The weekend—composed of a series of brief talks, panel discussions, and breakout sessions, will delve into such areas as:
The Big Debate: Local Ingredients, Foreign Chefs
The Stories Cookbooks Tell: Cooking Culture
Recipes, Tales, and Traditions
Holy Mole: Chocolate—from Aztecs, to Chaco, to Hershey
North v. South: The Chile Wars
Festivities begin on the Friday afternoon when Bill and Cheryl Alters Jamison lead an optional cooking class at the Santa Fe School of Cooking on the beloved foods traditionally served during New Mexico holidays. The class is followed that evening by a lively opening reception hosted by the Santa Fe School of Cooking with delicious food, wine, and entertainment by award-winning Mexican ranchera singer Nacha Mendez—and the opportunity to meet and visit with the renowned guest speakers. Saturday evening, Chef Rocky Durham of the Santa Fe Culinary Academy will host a spirits tasting featuring Colin Keegan of Santa Fe Spirits with Chef Rocky serving delectable bites.
FUSE.SW PRESENTERS
Estevan Arellano (NM historian)
Gustavo Arellano (syndicated columnist, author Taco USA)
Hakim Bellamy (Poet Laureate of Albuquerque)
Tony Bennett (proprietor, Kakawa Chocolate House)
Juan José Bochenski (Chef, Anasazi)
Paul Bosland, PhD (Director, NMSU Chile Institute)
Thomas C'de Baca (nephew of Fabiola Cabezza de Baca)
James Campbell Caruso (Chef, La Boca and Taberna)
Nicolasa Chávez (Curator of New World Cuisine)
Patricia Crown, PhD (UNM professor of archaeology)
Susan Curtis & Nicole Curtis Ammerman (proprietors, Santa Fe School of Cooking)
Rob DeWalt (Senior Editor, New Mexico Magazine)
Dave DeWitt (chile expert and historian)
Rocky Durham (Chef, Santa Fe Culinary Academy)
Bill and Cheryl Alters Jamison (authors of numerous award-winning cookbooks)
Damian Flores (poet)
Nasario Garcia, PhD (NM state folklorist)
Judith Hill (Poet Laureate)
Colin Keegan (proprietor/founder, Santa Fe Spirits)
Joan Logghe (former Poet Laureate of Santa Fe)
Deborah Madison (author)
Valerie Martinez (former Poet Laureate of Santa Fe)
Nacha Mendez (entertainer/singer)
Carmella Padilla (historian, author)
Jeffrey Pilcher, PhD (Professor of history, U of Minnesota)
Maricel Presilla, PhD (author, chef)
Martín Rios (restraunteur)
Lois Rudnick, PhD (historian, scholar)
John Sedlar (Chef)
Cordelia Thomas Snow (Historic Sites Archaeologist, NM Historic Preservation Division)
Elizabeth Titus, PhD (Librarian/cookbook archivist, NMSU)
Catalina Delgado Trunk (paper artist)
Don Usner (storyteller, author, photographer)
The nitty-gritty: Tickets for the festival are $250; $200 for Museum of New Mexico Foundation members. For tickets call (505) 476-1126 or email Shirley.Lujan@state.nm.us. Updated information is posted on the Fuze.SW website. Tickets include admission to the conference, the Breakfast Burrito Bonanza, Saturday's Museum Hill Café lunch and the Sunday Lunch Truck Brunch, and the evening receptions. Ticket prices don't cover transportation, accommodation, and dinners (however participating Dine Around restaurants will present a special prix fixe menu).
Fuze.SW 2013 is sponsored by the Santa Fe School of Cooking, Santa Fe Culinary Academy, Santa Fe Spirits, Kakawa Chocolate House, Hilton Santa Fe Historic Plaza, Sage Inn, Museum Hill Café, Museum of International Folk Art, International Folk Art Foundation, Museum of Indian Arts and Culture, Museum of New Mexico Foundation.
The following two tabs change content below.
Managing Editor | Mark is a freelance journalist based out of Los Angeles. He's our Do-It-Yourself specialist, and happily agrees to try pretty much every twisted project we come up with.
Latest posts by Mark Masker (see all)