Don't miss a single fiery issue of Burn! Magazine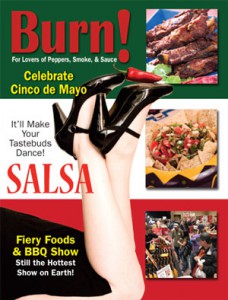 The next issue of Burn! will be released May 1st. In it, we'll explore Australia's Barbecue Heritage, travel to the Beer, Bourbon, & BBQ festival, and take a look at the seductive qualities of salsa, plus much more!
Burn! is your antidote for all the look-alike "food porn" mags. Sassy, sharp, informative, and written by contributors who know and love fiery foods and barbecue as much as you do, Burn! will take you places no other food magazine dares to go. And with interactive media features like embedded video and live links, Burn! gives you access to the fiery foods you love like never before.
Here's a taste of what's coming up in the May issue:
The Great Pastrami Experiment – One man demonstrates the lengths he'll go to in order to feed his pastrami addiction
Baptism by Fire: The 23rd National Fiery Foods & BBQ Show
Salsa! – It's food. No, it's a dance. OK, it's food that makes you want to dance
Baang-gaa to Barbies: Australia's Barbecue Heritage – Mystery bags, snags, bush tucker, and grilled grubs are all in a day's cooking in the Land of Oz
Brew It. Taste It. Sip It. Pork It: The Beer, Bourbon, & BBQ Festival
Celebrate Cinco de Mayo – It's May 5, time to whip up some margaritas and tip our sombreros to our spicy southern neighbors
If you've been reading Burn! using via a complimentary first issue, your free access will end April 30th, 2011, but you can continue to read Burn! for only $12 a year! Once your subscription is up, you'll be asked to select one of three introductory subscription rates: three months for $5, one year for $12, or two years for $15. A new issue will be delivered to your email each month!
Don't miss out on any of the smokey, spicy goodness! Subscribe today!
The following two tabs change content below.
Managing Editor | Mark is a freelance journalist based out of Los Angeles. He's our Do-It-Yourself specialist, and happily agrees to try pretty much every twisted project we come up with.
Latest posts by Mark Masker (see all)