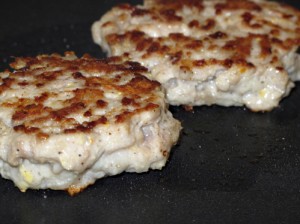 For the second part of my pork bribe to Santa, I ground up Christmas breakfast sausage. Not just any sausage, though. I used the pork belly trimmings left over from the slabs of bacon I cut up for curing last week.
Whenever I cure up a case of pork belly (roughly 35-40 lbs) as bacon, I always have leftover trimmings. It's unavoidable. One end of the belly is cut neatly, the other looks like it was hacked off by Jason Voorhees. An angry Jason Voorhees. Not the warm, nice teddy bear in a goalie mask we all know and love from the Friday the 13th movies. I've found you can minimize the trimmings by cutting your slabs starting at the neatly cut end of the belly (usually, I cut the belly into thirds). That way, you only have to trim down one rough, five pound slab.
Once the bacon slabs are a-curing in your fridge, you slice the skin from the trimmings, cut away the hard gristly fat, and cut the pork into 1-inch cubes so you can grind it into sausage. I used Michael Ruhlman's and Brian Polcyn's breakfast sausage recipe from Charcuterie: The Craft of Salting, Smoking, and Curing as the basis for my Christmas breakfast sausage but I changed a couple of ingredients to make it feel a little more like Christmas.
Pork Belly Christmas Sausage
Author:
Prep time:
Cook time:
Total time:
Ingredients
3-5 lbs diced, trimmed pork belly (skin removed)
1/4 cup kosher salt
3 tablespoons sea salt
5 tablespoons peeled and grated fresh ginger
5 tablespoons fresh orange zest
2 tablespoons maple syrup (if you want it sweeter)
1 tablespoon minced garlic
2 teaspoons ground black pepper
1 cup ice water
Instructions
Combine everything except the water and toss to distribute the seasonings.
Grind the meat through the small die on your grinder, into a bowl set in ice.
Add the water. Mix it until the water is incorporate and the meat has a sticky look.
Saute a bit of it and adjust the seasonings to taste.
Roll it into a log, wrap it in plastic, and freeze it. You can cut it into patties as needed.
The following two tabs change content below.
Managing Editor | Mark is a freelance journalist based out of Los Angeles. He's our Do-It-Yourself specialist, and happily agrees to try pretty much every twisted project we come up with.
Latest posts by Mark Masker (see all)