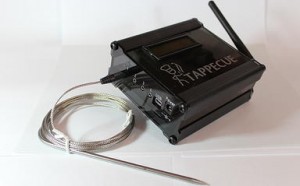 Need a great Christmas gift for that special outdoor cook on your Christmas list? Although a bit pricy (but in the same price range as similar units), take a look at the Tappecue, a four-probe Wi-Fi enabled remote thermometer that is compatible with iPhones, iPads, iPods and Android devices. It does not work with a Windows phone. With the built-in Wi-Fi interface, you can even allow your friends to monitor how your cook is going. The probe temperature range is 50 to 500 degrees F. and the probes have six-foot cables that make them very adaptable to most smokers and cookers. (You can even use the Tappecue to monitor oven temperatures if you're cooking indoors).
I have a lot of remote-reading thermometers–a couple of Maverick ET-732's, a BlueTherm Duo, and an iGrill among others–but I like the Tappecue primarily because it has an extended Wi-Fi range and four probes to monitor various temperatures. Unfortunately it does not have a pit probe clip so you need to put one of the probes in a wad of aluminum foil or a small potato to record the pit temperature.
Set up is pretty straight-forward but you have to know your router's name and password. You do need to be running Windows XP or higher to do the installation. The set-up program guides you through each step of the installation. The Tappecue requires shore power for its operation and comes with a 9Vdc/800mA power supply; there is no battery option but with shore power there is an LCD temperature display for the four probes on the base unit.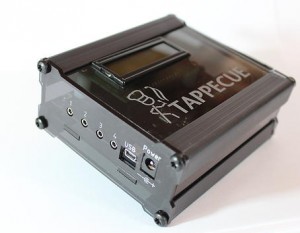 After downloading the set-up application from the Tappecue website, it took about 10 minutes to get the Tappecue up and running. The unit retains its settings after being unplugged so you only need to go through the set-up routine once unless you change your router settings.
Presently there is no interface for a desktop or laptop computer, only mobile devices. Gina Bourret, company president, said the company is in the process of developing a desktop/ laptop feature and a Mac interface. They are also developing a Facebook and Twitter interface.
At the end of every cook, you have an option to e-mail the session results as a csv file that can be imported into Excel and graphed for future reference. (Graphing spreadsheet templates with macros are available at no charge on the company's website.)
The Tappecue is not waterproof and, like other remote-reading thermometers, needs to be protected in a plastic bag or similar covering during rain or snow storms.
Manufactured by Innovating Solutions, LLC in Kansas City and launched in June 2013, the $199 Tappecue has a 90-day warranty. If ever needed, replacement probes are only $13.95, much less than comparable remote thermometer probes.
I've used the Tappecue for several recent cooking sessions and like it very much. Any BBQ cook on your Christmas list would enjoy receiving it!
The following two tabs change content below.
Grilling & BBQ Editor | Mike holds a "Doctorate of Barbeque Philosophy" (Ph.B.) degree from the Kansas City Barbeque Society. His book Mastering Barbecue has been called the "go-to" book for BBQ knowledge.
Latest posts by Mike Stines (see all)