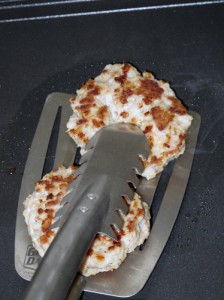 After I've spent a few hours over a hot grill, the last thing I want to do is wash a bunch of barbecue tools and do the dishes. Usually this is because my innate laziness and The Itis dictate I take a nap. Grill Daddy understands my lack of motivation and made their line of Heat Shield tools to make it a little less likely I sit on my backside with a sink full of dirty dishes. Here's what I mean.
Grill Daddy's Heat Shield Spatula has clip-on attachments. It's one tool with several interchangeable heads. Not only does this make for slightly easier clean up, this sort of modular construction is great for storage and keeping track of your grill tools. You just swap between the snap-in heads. Not only that, they're all made from heavy-duty stainless steel and the handle is equipped with a stainless steel heat shield that protects your hands from searing grill heat and flare ups in any position (the heat guard rotates on its own so it's always between your hand and the grill). The handle also telescopes an extra 5.50 inches for added comfort for extra large grills and basting. The four other attachments are the Fish Flipper, Slider Flipper, Fork, and basting Brush.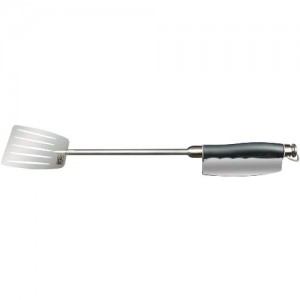 Grill Daddy gave me the spatula and the tongs to try and I'm a little torn as to which I'd purchase. On the one hand, the spatula comes with a meat thermometer that stores in the handle. With the tongs, however, you can remove one end, replace it with another attachment (including the spatula), and have the advantage of a tong while using said attachment (like in my photo above).
Either way, I think the Grill Daddy line is a good deal if you buy either the tongs or spatula handle, then accessorize with the rest of the attachments.
Here's a cost breakdown of what you'd need for the full set: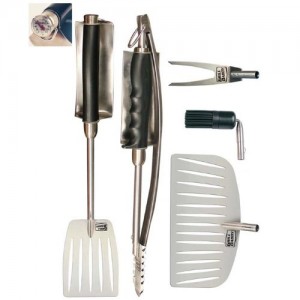 Fork attachment: $6.99
Spatula attachment: $7.99
Slider Flipper attachment: $8.99
Fish Flipper attachment: $9.99
Basting Brush attachment: $9.99
Heat Shield Tongs or Spatula: $19.99
Total: $63.94
For a full set of heavy-duty barbecue tools, that's not a bad deal. Plus, you don't have to deal with all of those extra handles cluttering up your grilling area. Amazon also sells this 6-piece kit for $52.00.
I used the Grill Daddy last week when I tested out my Christmas breakfast sausage but I also tried out Burger Stomper's slider maker at the same time. About a month ago, the good people at Burger Stomper gave us their kit to try out. Like the Grill Daddy tools, it's well-constructed from heavy-duty steel. The Burger Stomper's slider attachment is a scaled-down version of their burger patty shaper that screws on to the handle to replace the burger shaper. It's also good for shaping patty sausage, as I found out when I used it. You can buy the Burger Stomper kit on Amazon.
The following two tabs change content below.
Managing Editor | Mark is a freelance journalist based out of Los Angeles. He's our Do-It-Yourself specialist, and happily agrees to try pretty much every twisted project we come up with.
Latest posts by Mark Masker (see all)