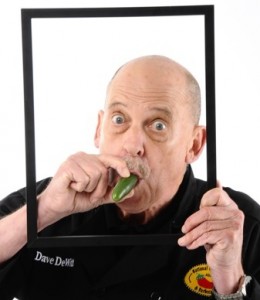 All my life I've had this attitude that if everyone else is doing it, I'm not. This mostly relates to insubstantial things, which is why I've never smoked a cigarette, joined a fraternity, church, or bridge club, and I refuse to discuss religion or politics in most situations. About food, I'm the same way, so my preface here will help you understand my resolutions for 2014.
1. I'm not eating any fast food. This has been going on for forty-five years and is not going to stop.
2. I'm not eating at restaurants that expect you to do their job. I'm not waiting in line to order, making my own fondue, or cleaning off my own plate. That's why I'm eating out—not to have to do those things.
3. I will learn one new cooking technique. In 2013, thanks to Yoder Smokers, I learned how to smoke on a pellet smoker, and I love it. Now on to something new.
4. I'm going to continue to drink locally-produced craft beers. I'm about 90 percent there, but some restaurants just don't have them so it's Negra Modelo time, which isn't bad at all.
5. I'm not opening a restaurant. This has been going on for sixty-nine years and will continue.
6. I'm going to put in a garden. This is not a resolution, it's an addiction, and I do it every year.
7. I'm going to find Mary Jane at least one ingenious cooking gadget that she needs. I gave her a cookie press out of the blue right before Christmas, when she was about to start the manufacture of at least a thousand holiday cookies. I thought she was going to faint with joy and confusion, like how did I think this one up? Blind luck, shopping at Now We're Cooking.
8. I'm continuing my quest for a really good, complex Cabernet under $10 that's better than Charles Shaw, aka Three Buck Chuck. Twenty-five Cabernets tried so far and no winner.
9. I will continue to eat Monday lunch at the Quarters on Yale with Wayne Scheiner. We have been doing that regularly for 39 years, so why stop? And a tip of the hat to Connie Nellos for not selling it out from under us and turning it into a brew pub.
10. I'm continuing my boycott of all-you-can-eat restaurants. Why break a lifelong tradition?
11. I'm going to make the Fiery Foods and Barbecue Show better but not bigger. It'll be both whenever Sandia Resort and Casino expands their exhibit space, but for 2014, we're going tropical. More soon.
12. I'm not buying any more local foods. Wait a minute, who slipped that in? I'm buying more of them.
13. I'm going to ask a waiter in a seafood restaurant, "How far does your escargot?" I've always wanted to do that.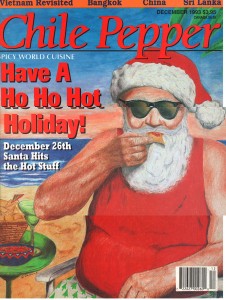 And there you have it, thirteen lucky food resolutions that I'm bound to keep. And remember in my preface, that I said if everyone's doing it, I won't? Well in the magazine biz, all of us were expected to have a traditional holiday cover. But as the editor of Chile Pepper magazine, published right here in the Duke City, I rebelled against that trend, as you can see in the cover of our December, 1993 issue.
The following two tabs change content below.
Publisher | Christened the "Pope of Peppers" by The New York Times, Dave DeWitt is a food historian and one of the foremost authorities in the world on chile peppers, spices, and spicy foods.
Latest posts by Dave DeWitt (see all)