"The flu, Kringle? Really? That's what bacon, sausage, and ham get me for Christmas?" That's what went through my head when I staggered out of bed this year to an empty plate and no Big Green Egg under the tree. Oh, well. At least my family still loves me (thank you very much for the FoodSaver vacuum sealer, Mom and Dad). There was plenty leftover from my Santa bribe trifecta to share, so everyone got a sizable dose of Christmas pork this year. Woohoo!
The third component for the Yule Hog project was glazed ham. Seeing as how I met Adam Feinberg at the World Food Championships in 2013, I thought ham glaze would be a great test for the Feiny's Rubs Original BBQ Rub he gave me to test. It's a pretty well balanced barbecue rub that starts savory when you taste it and ends on a sweet note. It's pretty good and gluten free to boot. Here's the recipe for the ham.
Barbecue Glazed Ham
Author:
Prep time:
Cook time:
Total time:
Ingredients
3 tablespoons Feiny's Rubs BBQ Rub
5 lb ham (bone-in, cooked)
1/2 cup pineapple or orange juice
1/4 cup honey
Instructions
Place a disposable aluminum drip pan in the center of the grill, under the cooking grates. If you're cooking with gas, heat the grill on high for 10 to 15 minutes, then shut off the burner under the pan but leave the others on. Adjust the remaining burners so your grill registers 375-425 degrees F. For charcoal, build two equal piles of briquettes on either side of the drip pan. When the coals are coated in gray ash, you're ready to rock.
Place the ham onto the cooking grate and close the lid. After 45 minutes, turn the ham over, adding more briquettes if you're using coals. Grill the ham until it registers 140 degrees F when poked with an instant read thermometer at its thickest point, away from the bone.
Mix the rest of the ingredients in a cup. Score the ham in a criss-cross pattern.
Brush the glaze all over the ham. Grill it covered for 5-15 more minutes.
Let the ham rest 15-20 minutes before carving.
Get bitter at Santa for not appreciating a good bribe when he sees one.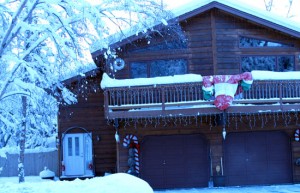 While I was mad at Santa at first (and did indeed catch the flu while visiting my folks in Alaska over Christmas), I later found out someone had a little too much to drink at the house down the street and never made it to mine. Still, someone else ate all that yummy pork and I'd bet money it was my dad.
The following two tabs change content below.
Managing Editor | Mark is a freelance journalist based out of Los Angeles. He's our Do-It-Yourself specialist, and happily agrees to try pretty much every twisted project we come up with.
Latest posts by Mark Masker (see all)