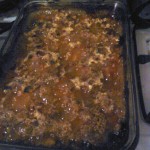 In the middle of all the online jokes about the two states where marijuana is legal having teams in the "Super Bowl," you'll need to find a dessert suitable for that big Super Bowl party you're planning. You could be all safe and whatnot, but if you're guests are expecting something different, this dish is hotter and edgier than a strip club on a desert cliff.
I'm talking about a concoction my friends and I call, "Chuppacobbler." We came up with the name over Thanksgiving but with demonic goat-suckers being scarce at the supermarket (and a bitch to grind up), we opted for hot and spicy instead of meaty and disturbing. It was probably for the best. Chuppacobbler blends fruit, ginger, and habaneros into a dessert your party people will remember long after they've forgotten about the big game's overpriced ads and flashy half-time show.
Chuppacobbler: Sweet Fire for the Super Bowl
Author:
Prep time:
Cook time:
Total time:
You can vary the heat on this by either omitting the habanero seeds or going buck wild with all of them.
Ingredients
2 large green peeled, chopped mangoes
2 large cored, peeled, chopped Granny Smith apple
6-8 peeled and chopped persimmons
2 finely chopped habanero peppers, seeds and stems set aside
ginger
1 1/2 cup sugar
3/4 cup lemon juice
1 stick butter
1 package yellow cake mix
Instructions
Preheat your oven to 350 F.
Mix everything except the cake mix, butter, and habanero seeds.
Pour the mixture into a greased 9×13 baking dish. Drop the habanero seeds into the mixture at regular intervals for even fire distribution.
Melt the butter.
Coat the top of the poured mixture with a layer of cake mix. Drizzle the butter slowly over the entire surface of the mix. Melt more butter if needed.
Place the Chuppacobbler in the oven. Bake it for 50-60 minutes or until the cake mix looks brown and toasted.
The following two tabs change content below.
Managing Editor | Mark is a freelance journalist based out of Los Angeles. He's our Do-It-Yourself specialist, and happily agrees to try pretty much every twisted project we come up with.
Latest posts by Mark Masker (see all)