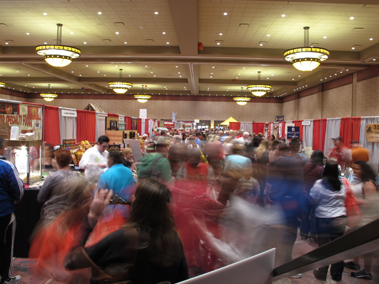 Okay, there wasn't actually a hurricane at this year's National Fiery Foods and Barbecue Show at Sandia Resort & Casino in Albuquerque. We had wind and rain with a healthy dash of chaos to really set off the event, though. There just wasn't any of the downside you get in an actual tropical storm.
This year, event creator Dave DeWitt decided on the tropics as the theme for the show. Mainly, this was a guideline for chefs conducting demos in the tent at the end of the lobby. Seeing as how Chef Norman Van Aken was the headliner in that venue, the theme made sense. He blends Latin, Caribbean, American, Asian, and African flavors so well he's been called "the founding father of New World cuisine." Chef Van Aken conducted two demos, one on Friday, the other on Sunday. Both starred fish with a pepper paint. Not only did they taste awesome, Norman Van Aken also called volunteers up on stage to assist, then stuck around to sign copies of his books My Key West Kitchen: Recipes and Stories and No Experience Necessary: The Culinary Odyssey of Chef Norman Van Aken.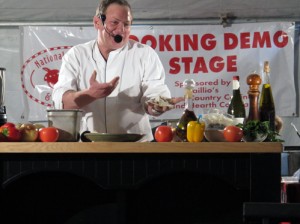 For you kids out there who've not made it to the show, Friday starts off with industry hours until 4 pm when the general public is let in to taste, browse, and hit the bar. It starts as a trickle but by closing at 7 or 8 pm, a fair number of folks have walked through to beat the weekend rush. I say this because some of the first-time attending vendors thought Friday night was pretty busy.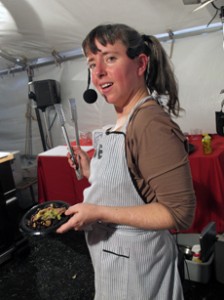 It's nothing compared to the consumer monsoon that's Saturday or Sunday in full swing. In spite of the bad weather, the crowd blew in promptly at the 11 am opening time, then showed all the vendors the meaning of "busy." Jim Garcia started the demos off with a tequila tasting at noon, followed by cooking exhibitions by Chefs Matt Yohalem and Jaye Wilkinson.
Chef Norman didn't conduct a demo, though. He was also one of the central players in a conspiracy targeting Dave DeWitt. A few weeks back, the Pope of Peppers hit the age of 70. Every year El Pinto hosts the show's industry dinner for all of the vendors. Why not double up and make it Dave's birthday party?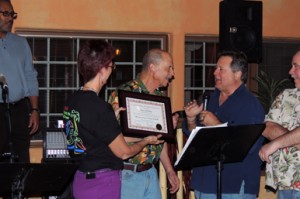 That part, Dave DeWitt knew about. What a close circle of nefarious colleagues and friends hid from him were the dinner and its presentation. Prior to the show's start on Friday, Lois Manno, Dennis Hayes, and Norman Van Aken put together a document, a chile manifesto of sorts. They ambushed the pope with it just as he was beginning to get suspicious about the dinner that wasn't appearing when he sat down at his table at El Pinto. He'd heard all about how Norman was making this badass shrimp paella with corn and poblanos. But where was it?
Hiding back in the kitchen, that's where. Norman conjured up the recipe as a way of mixing some of Dave's favorite flavors in one punch. El Pinto's chefs made it per Chef Van Aken's direction, just for Dave. That's why it was nowhere to be found when Dave DeWitt parked himself at the table. It was lurking in the back waiting to be served. When the paella made its entrance, Dave loved it. So did anyone else lucky enough to share some of it.
There was cake, of course. Dave loves himself some reggae and the live band didn't disappoint. Far from it, as evidenced by the people dancing in front of the stage. Saturday ended as it started–with a bang.
Sunday morning was a brief eye in our storm. Calm had snuck in sometime in the night. It blanketed the show floor until shortly after opening to the public. Attendance gained steam, though, and by mid afternoon there were a fair amount of folks shopping, eating, and, yes, hitting the bar. At 2:45, Chef Van Aken took to the stage for the second part of his tropical cooking demonstration, bringing a guy named Chris up on stage to help with flipping the fish this time. Yoder Smokers gave its second demo of the show right after that. This time, though, one of the foremost barbecue men in the world was at the helm: Rick Browne.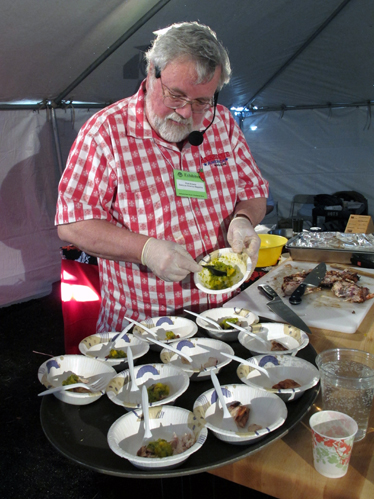 Mr. Browne flew out to promote the new magazine he edits, Barbecue America. True to the theme, he treated attendees to jerk chicken he cooked in the Yoder Pellet Smoker. Right about the time Don Cary was finishing filling us in on what the Yoder does, Rick got busy showing us how well it did so, making the chicken in it on site. Just like the other dishes, the chicken was fan-effing-tastic. It disappeared before I could even set my camera down to steal some!
Meanwhile, Nevin Montano announced the winner of the DISC-IT giveaway and awarded the Scovie winner DISC-ITs to Lusty Monk Mustard and Twang Beersalt. By this time, the last day of the Fiery Foods Show was winding down. How do you know when closing time is near on the last day? Gee, if only there was an omen, a portent: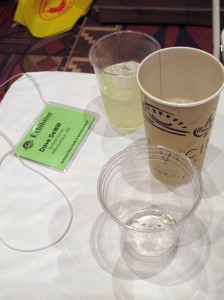 When I see Dave's badge sitting between three cups of booze in various states of undress, I'd bet any amount of money the storm's at an end. And I'd be right.
All in all, the 2014 National Fiery Foods and Barbecue Show went pretty well this year, aside from the stormy weather and its affects on our demo tent. Dave already has plans for something new in 2015. As soon as the plans are set in stone, I'll gladly share them with you here. Until then, keep an eye on Burn! Blog for recipes made by the chefs at the show as well as product reviews using some of the sauces, rubs, and more I encountered there. If you want to see a lot more of the show, check out the little gallery below or go to the photo album on our Facebook page.
The following two tabs change content below.
Managing Editor | Mark is a freelance journalist based out of Los Angeles. He's our Do-It-Yourself specialist, and happily agrees to try pretty much every twisted project we come up with.
Latest posts by Mark Masker (see all)