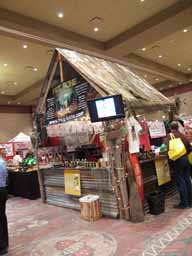 Keith "Boudin Man" Jenkins, a native of Madisonville, LA, moved from his home 40 miles north of the Big Easy to Flint, TX in 2010 and started selling shrimp and crawfish from the back of a pickup truck on weekends. He then opened the "Cajun Bayou Seafood" restaurant offering fresh seafood and what many called "the best boiled crawfish around."
Due to frequent requests for his sauces and recipes, Keith made the decision to close the restaurant and start his own line of gourmet sauces in 2012. "I took our Louisiana favorites and added my own little Texas twist to them," he says.
In 2013 Keith moved back to Madisonville. He now travels all over the country sharing his products at hunting and sportsman's shows. He displayed his products at the 2013 and 2014 National Fiery Foods & Barbecue Show. (Frog Bone sauces have won seven Scovie awards and numerous other awards.)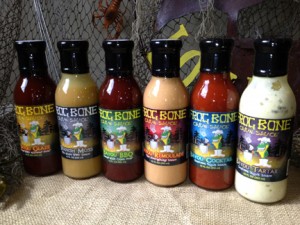 "Bayou BBQ" was the company's first sauce. "This sauce is great on ribs, brisket, chicken, pork, hamburgers, hot dogs turkey, deer and duck," he says.
"Spanish Moss," the company's second sauce, is a white barbecue sauce. "Great for making coleslaw, sandwiches and dipping for chicken tenders and French fries. Perfect for grilling on chicken, pork chops and unbelievable as a salad dressing," he explains.
The sauce line continues to grow and now includes a glaze, rémoulade, cocktail, tartar and a new pepper sauce. The company also has a line of six dry rubs.
The company sent me four of their sauces: Bayou Rémoulade, Pepper Sauce, Bayou BBQ and Spanish Moss.
I tried the pepper sauce with an Andouille, jalapeño and cheese breakfast burrito. The sauce is very similar to Tabasco… thin, slightly spicy with a strong vinegar presence as evidenced by the labeling… vinegar is the first ingredient listed followed by red cayenne pepper.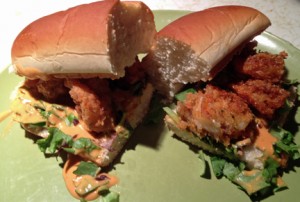 I used the rémoulade when I made fried shrimp po' boys and Cajun deviled eggs, substituting the rémoulade for the usual mayonnaise and adding some Cajun pepper sauce. Although I would have preferred more caper presence, the rémoulade is tasty and well-balanced. It would also make a good dressing for salads and sandwiches.
Even though the ambient temperature was only 24 degrees, I fired up the Yoder YS 640 cooker and smoked some chicken wings at 350 degrees F. for about an hour. I used the Bayou BBQ sauce brushing it on the wings halfway through the smoke. I also used the sauce on oven-roasted chicken breasts. The sauce is sticky, a little sweet with a mild heat; it's a nice sauce.
I tried the Spanish Moss atop smoked broccoli-stuffed chicken breasts. I didn't use the sauce during cooking but brushed it over the breasts before serving. The sauce is thick and sweet, almost like honey mustard dressing.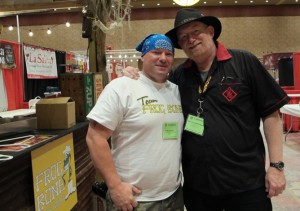 More information is available at Frog Bone's website and Facebook page.
The following two tabs change content below.
Grilling & BBQ Editor | Mike holds a "Doctorate of Barbeque Philosophy" (Ph.B.) degree from the Kansas City Barbeque Society. His book Mastering Barbecue has been called the "go-to" book for BBQ knowledge.
Latest posts by Mike Stines (see all)