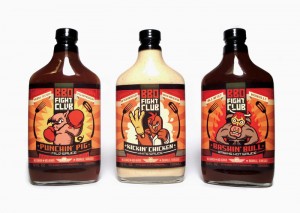 Hog Heaven, located adjacent to Centennial Park in downtown Nashville, is literally a hole in the wall BBQ joint. While there are a few "outdoor" tables most of the business is takeout with folks enjoying the hickory-smoked meats in the park. What makes Hog Heaven unique is they make a white barbecue sauce that is absolutely fantastic for poultry.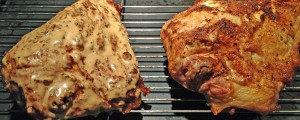 During a recent trip to Nashville I picked up their combo pack with three of their sauces offered in glass bottles: "Bashin' Bull Raging Hot Sauce," "Kickin' Chicken White Sauce" and "Punchin' Pig Mild Sauce." The brand name of the sauces is "BBQ Fight Club" and are available on-line at their website or at Hog Heaven itself if you're in Nashville.
"Kickin' Chicken" and "Punchin' Pig" have been blended and available at the restaurant since 1986. In 2010 Hog Heaven began a commercial bottling operation and developed the "Bashin' Bull" habanero flavored hot sauce.
The first recipe I tried was using the white sauce instead of mayonnaise for smoked chicken. It was great.
Fight Club Smoked Chicken
Author:
Prep time:
Cook time:
Total time:
Ingredients
4 chicken quarters (legs and thighs)
3/4 cup Kickin' Chicken White Sauce, divided
2 tablespoons Cajun seasoning (homemade preferred)
Instructions
Pat the chicken dry and brush 1/3 cup of Kickin' Chicken over the chicken. Liberally coat the chicken with Cajun seasoning (or your favorite poultry rub).
Prepare the smoker for 350 degrees F. cooking (I used a combination of apple and sugar maple pellets in a Yoder YS 640 but use whatever flavors you prefer). When the cooker is up to temperature place the chicken on the cooking grate, cover and cook for one to 1 1/2 hours or until the chicken is 175 degrees F. (USDA says thighs can be cooked to 165 degrees F. but I prefer chicken that is a bit more cooked.)
Remove the chicken from the cooker and let it rest, tented with foil, for 10 minutes. Heat the remaining sauce and brush it over the chicken before serving. Serve with additional warmed sauce for dipping, if desired.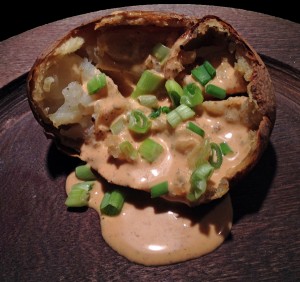 The second thing I tried was using Kickin' Chicken with a smoked Idaho potato. Definitely better than sour cream, salt, pepper and butter! Kickin' Chicken has a unique flavor profile: it is mayonnaise based with vinegar highlights and a nice spice taste that includes onion, garlic, Worcestershire, anchovies and buttermilk. Flavorful but not what one would consider hot.
Bashin' Bull is definitely a kicked-up sauce. Vinegar based with tomato paste, Worcestershire, molasses, garlic and spices… it is sweet, spicy, hot and tasty.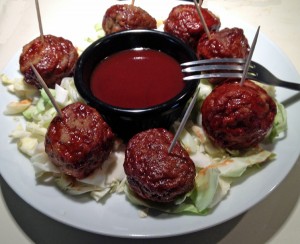 I used it as a glaze and dipping sauce for meatball appetizers during a recent get-together before the World Champion Red Sox home opener. A word of advice… make more meatballs than you think you'll need. They'll go fast! (Of course some Boston-brewed Samuel Adams Double Bock would make everything better.)
The following two tabs change content below.
Grilling & BBQ Editor | Mike holds a "Doctorate of Barbeque Philosophy" (Ph.B.) degree from the Kansas City Barbeque Society. His book Mastering Barbecue has been called the "go-to" book for BBQ knowledge.
Latest posts by Mike Stines (see all)