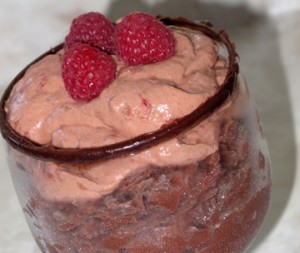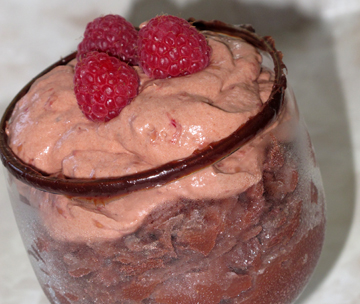 One thing I love to do at the Fiery Foods Show is prowl the floor looking for new ways to combine products. This Spicy Chocolate Frappe is the best result I've ever had.
It's a frozen spicy red wine concoction teaming Nectar of the Vine's Natural Chocolate Martini Frappe mix with CaJohn's Frostbite Hot Sauce and Sweet & Saucy's Chipotle Chile Fudge. All three are very tasty in their own rights. When I spliced them together, though, the results were better than I expected.
Spicy Chocolate Frappe
Cuisine:
Dessert Cocktail thingy
Author:
Prep time:
Cook time:
Total time:
Ingredients
1 pouch Nectar of the Vine Chocolate Martini Frappe mix
3 tablespoons CaJohn's Frostbite Hot Sauce (you can use more; no more than 6)
2 tablespoons Sweet & Saucy Chipotle Chile Fudge
750 ml dry red wine
750 ml water
1 packet Dr. Oetker's Instant Chocolate Mousse mix
1 cup milk
1 cup clean fresh raspberries
Instructions
Mix the frappe mix, wine, water, and Frostbite in a 2 quart pitcher. Freeze it for at least 3-4 hours. Let it thaw for 20-30 minutes.
While the wine mixture is thawing, combine the raspberries, Dr. Oetker's, and milk in a mixing bowl. Mix it with an electric mixer per the instructions on the box.
Spoon the mousse into one corner of a Ziplock bag.
Spread the fudge in ring shape on a saucer. The ring should be the same width as your wine glasses. Gently roll the lip of the glass in a circle in the ring to pick up enough of the fudge.
Fill the glass with the frappe mixture.
Cut a small hole in one corner of the ziplock bag. Squeeze mousse through the hole and into the glass over the frappe.
Top the mousse with three raspberries and serve (optional).
The following two tabs change content below.
Managing Editor | Mark is a freelance journalist based out of Los Angeles. He's our Do-It-Yourself specialist, and happily agrees to try pretty much every twisted project we come up with.
Latest posts by Mark Masker (see all)