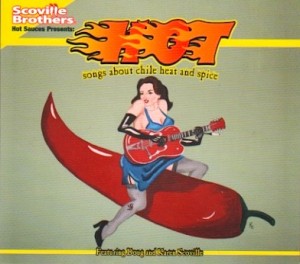 The Scoville Brothers are actually not Karen and Doug Scoville, they're Karen and Doug Lins, but don't tell anyone. And there's more brothers in the group, namely Doug's brothers, Chris, Doug, and Merle, who play various instruments. Some of the songs on this CD are hilarious, namely "Hey Wilbur," a version of "Ring of Fire," which has Doug trying to outcash Johnny. I believe the most ridiculous song (that's a compliment) is "The Ballad of Habanero Pete which is about two peppers from different species falling in love, losing each other, and finally settling down in their own little pepper patch. Think "West Side Story" with fruits. Hot fruits. If you are brave enough to listen to this ballad, Doug Scoville, I mean Lins, was kind enough to provide a handy link.  (You will be prompted to sign up to Soundcloud.com, but that's a good thing, sorta like a Dropbox for audio.)
And if you'd like to buy the CD for your Grandmom's 94th birthday, you may do so here.
The following two tabs change content below.
Publisher | Christened the "Pope of Peppers" by The New York Times, Dave DeWitt is a food historian and one of the foremost authorities in the world on chile peppers, spices, and spicy foods.
Latest posts by Dave DeWitt (see all)