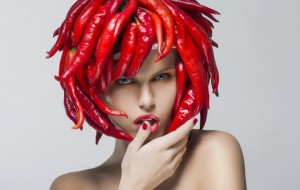 Top model/actor Sparky Odyssey shows off her new do to excited press photographers. "By themselves they're not the hottest in the world," she commented. "But when I'm part of the equation, watch out!" Sparky stars in the latest Roger Corman knockoff, "Overdose!" In that thriller, the race to breed the hottest pepper in the world gets decidedly dangerous. With napalm.
The following two tabs change content below.
Publisher | Christened the "Pope of Peppers" by The New York Times, Dave DeWitt is a food historian and one of the foremost authorities in the world on chile peppers, spices, and spicy foods.
Latest posts by Dave DeWitt (see all)