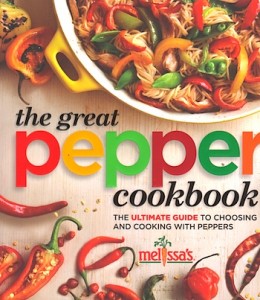 Now here's a book chileheads can sink their teeth into. Melissa's Produce is the largest variety distributor of fresh and dried chile peppers, so it makes total sense to have a cookbook devoted to using the various types of peppers they sell—37 in total that are included in 150 recipes.
In our household, I'm merely the outdoor cook and Mary Jane's prep cook. Since it's MJ who does most of the cooking, I'm now turning this review over to her.
"Not only is this book beautiful visually, but it also has some of the most creative and exciting recipes that I have seen in a long time. I wanted to make and eat everything in the book–immediately!  The book should come with a warning: 'Do not look at this book if you are hungry…' You could start chewing on the pages!
"There are great "Simple Swaps" for every recipe, and the clear and logical directions makes it easy to follow the recipe. It also gives prep  times, and that helps with the planning of the meal. The ingredients are widely available, making it a very accessible book for home cooks.
"There are new twists on old favorites, such as mac 'n' cheese becomes Lobster-Chile Mac 'n' Cheese; Italian Braciole is re-created into an easy, rolled Steak Braciole & Poached Eggs. Desserts are given some new updates as well: ordinary Creme Brulee is transformed into Raspberry-Chile Creme Brulee." –Mary Jane Wilan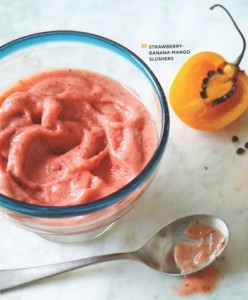 Strawberry-Banana Mango Slushers
Melissa's is the only source we know of for Capsicum pubescens, the "manzano" or "rocoto" variety with the black seeds. They are delicious and quite hot, so you only need a half of one to make this easy dessert recipe, which serves six.
1 pint fresh strawberries, hulled and frozen
2 cups frozen mango chunks
3 bananas
1/2 fresh manzano chile, stem and seeds removed, chopped
Place all of the ingredients in a blender and process until slushy and not quite smooth. Serve immediately.
Title:  Melissa's The Great Peppers Cookbook:  The Ultimate Guide to Choosing and Cooking with Peppers
Publisher:  Oxmoor House
Authors:  Melissa's Experts and Culinary Team
Retail:  $19.95 soft cover / $29.95 hardcover / E-book available too.
Book Availability: Order the book here.
Chile Pepper Availability: Order fresh and dried peppers here.
The following two tabs change content below.
Publisher | Christened the "Pope of Peppers" by The New York Times, Dave DeWitt is a food historian and one of the foremost authorities in the world on chile peppers, spices, and spicy foods.
Latest posts by Dave DeWitt (see all)