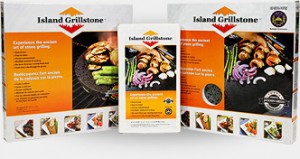 I recently received a grill stone from IslandGrillstone.com that is really unique. The one I have is a 14- by 14-inch slab of porous volcanic rock ($59.99) but the company also offers a 14-inch round slab ($59.99) and a 7- by 12-inch piece ($49.99) to accommodate different grills. Shipping is included in the price.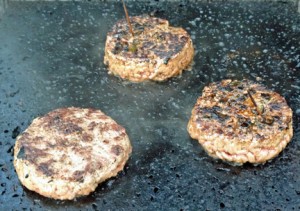 I've cooked on salt blocks from the Himalayans, cedar planks from the Northwest, apple wood planks from New Hampshire and a bunch of other stuff but never a piece of volcanic rock! I used it to cook steak, poultry, veggies, seafood and even pizza! Unlike a salt block, the grill stone doesn't add any salt flavor to the food so you need to season the food before cooking.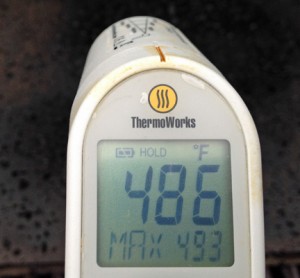 But you can't use the stone straight out of the box. It needs to be seasoned and tempered… much like cast iron. Wash the stone with soap and water; let it dry completely. Lightly coat the stone with oil and place the stone on your grill and gradually bring it up to temperature (if you don't, the stone may shatter). Get the stone to grilling temperature and turn off the grill. Let it cool completely. Flip the stone over and season it with oil. Bring the grill to temperature again and heat the stone. Turn the grill off and let it cool. (The grill stone can withstand temperatures up to 900 degrees F.)
Now you're ready to cook! When you want to cook on the seasoned stone, bring the grill and stone to temperature and cook whatever you'd like. When done, let the stone cool and turn it over and you'll be ready for the next grilling session.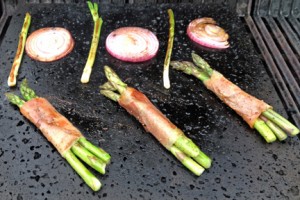 I placed the grill stone on one side of my Broilmaster P-3 gas grill (the other side has GrillGrates). Both prevent food from falling through the grill or creating flare-ups. I like cooking on both of them.
The following two tabs change content below.
Grilling & BBQ Editor | Mike holds a "Doctorate of Barbeque Philosophy" (Ph.B.) degree from the Kansas City Barbeque Society. His book Mastering Barbecue has been called the "go-to" book for BBQ knowledge.
Latest posts by Mike Stines (see all)