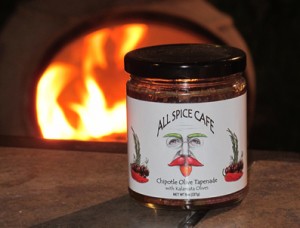 As interesting characters at the Fiery Foods Show go, JD Cowles ranks near the top of the list. He's usually rocking a dyed goattee and 'stache while showing off the latest and greatest spicy offerings from his All Spice Cafe in Venice Beach, California. JD's been going to the show for at least as long as I have, so he knows his way around making great spicy sauces, snacks, and more. Like his Chipotle Olive Tapenade.
You just don't see tapenade at a hot sauce show very often. Or a barbecue show, for that matter. After trying this smoky, spicy mix of finely kalamata olives and chipotle seasoning, I'm going to find excuses to use it when I grill.
Chipotle Tapenade Burgers
Author:
Prep time:
Cook time:
Total time:
Ingredients
1 lb ground beef
3 tablespoons Chipotle Olive Tapenade
1-2 sliced green bell peppers
4 medium cheddar jalapeno rolls, sliced horizontally
8 slices of bacon (I used my home cured garlic and black pepper bacon)
4 slices mozzarella cheese
sundried tomato alfredo spaghetti sauce
Instructions
Heat your grill to 350 degrees F.
Mix the tapenade into the ground beef. Press the beef into four quarter pound patties.
Place the burgers, bacon, and pepper slices on the grill. Salt and pepper the ground beef to taste. Close the lid. Flip everything 3-5 minutes later.
Place the cheese on the flipped burgers. Remove everything at the desired degree of cooking. Optional: toast the rolls while cooking.
Spread the sauce on the rolls, construct the burgers, and chow down.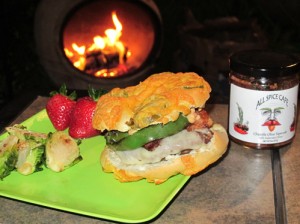 You're meeting my first victim right now. JD told me lamb sliders were a great way to go with the tapenade. That makes sense. I like to twist things up a bit when I'm playing with reviewing a product. Instead, I made full-size beef burgers with the chipotle tapenade mixed into the ground beef. It added a medium heat with a subtle Mediterranean flavor to the meat. JD recommends it for pasta with shrimp and several other dishes. You can find them and more of his products at his recipe page, here.
The following two tabs change content below.
Managing Editor | Mark is a freelance journalist based out of Los Angeles. He's our Do-It-Yourself specialist, and happily agrees to try pretty much every twisted project we come up with.
Latest posts by Mark Masker (see all)