This week's edition of Hot News is a weird blend of crickets, green sauce, barbecue, and food champs. Three out of those four things are for eating. You can decide for yourself which…
Chirps and Salsa
Usually when I eat a cricket, it's due to extended yawning on a motorcycle, followed by an abrupt stop and some really comical gagging. Six Foods is trying to change that through a Kickstarter campaign for Chirps Chips.
The chips are a blend of beans, rice, and cricket flour. What? No, I'm not drunk. Seriously. Chirps run 7 grams or protein a serving (more than an egg). Judging from the information they've posted on the campaign, crickets are a far more practical alternative to beef that uses much less resources per pound of protein yield. They've already cleared their initial goal, but you can still get in on the action before the great bug-eating rush.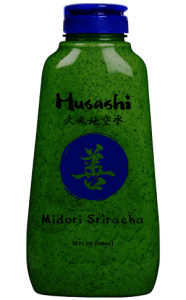 Hell, Yeah, I Want Some Green Sriracha
I'm surprised it's taken so long for someone to do this and jealous I didn't think of it first. Midori Green Sriracha, sold by N.Y.-based Musashi foods, is full of green chilies,rice vinegar, and a selection of natural ingredients. It's reportedly thicker than Huy Fong Foods famous red version. Musashi president Gideon Sarraf had been making the green Sriracha for awhile. It's been almost seven months since his company was born. Right now, he's getting orders every few minutes. You can buy Midori Sriracha on Amazon or the company website. It should be hitting retailers soon.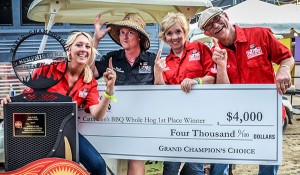 The Shed at Memphis in May
Stop by booth H-206, right along the riverfront, anytime during your Memphis in May visit Wednesday, May 14 through Saturday, May 17 where the Orrison family team can let you in on their secret to the "junk-free" barbecue that took first place in 2013 in the Whole Hog and Poultry categories. This year they're introducing a new secret weapon in the beef category choosing Meyer Natural Angus Beef, the largest U.S. producer of natural beef. It's raised without antibiotics or hormones leaving extra room for that signature Shed flavor. Find out more here.
Food Champ Talent Management
I'm guessing it was just a matter of time before a management company decided champion food competitors were a big enough "thing" to warrant specific representation. Food Champ Talent Management seeks to to do that. The company hires out food talent for corporate functions, events, and so forth. I'm all for people striking while the iron is hot, but what's your opinion? Is this a good thing, or just straight exploitation of the hot trend of food competition? Let us know what you think.
The following two tabs change content below.
Managing Editor | Mark is a freelance journalist based out of Los Angeles. He's our Do-It-Yourself specialist, and happily agrees to try pretty much every twisted project we come up with.
Latest posts by Mark Masker (see all)