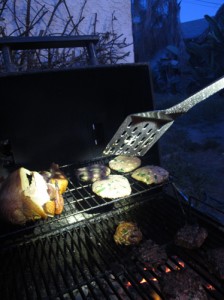 Just to be clear, I like any hand tool that reminds me of a lightsaber. That's part of the appeal of the Grillight spatula, here. At least, for me. Honestly, if it had a little speaker and made lightsaber noises every time you flipped a burger, I'd grill in a full Darth Vader costume for the rest of my geeky little life. Grillight doesn't. What it does do, surprisingly well, is illuminate your food while flipping it over hot grates.
That's not a problem when you're grilling with that hot ball of gas looking over your shoulder. Not your rude uncle–the other ball of gas. The one at the center of our solar system called the sun. Every grill jockey in the world eventually finds him/her self piloting a set of hot grates in the dark of night, though. While there are all manner of electric light sources to help you keep track of your food in the middle of a night session, Grillight is unique in that it combines a flashlight with a very well-made 17.3×3.2-inch stainless steel spatula.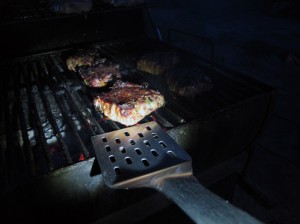 The flashlight's beam runs down the handle to the blade and onto that meat you're getting ready to flip. I thought that would be the end of it. By using a LED instead of a conventional bulb, Grillight's designers gave us a product the emits a brighter light for less power. LEDs have been known for both of those qualities, not mention bulletproof longevity, for a long time now.
As you can see, Grillight's beam projects beyond the head of the spatula. I also found that if you flip the tool over, you can reflect the light onto the whole surface of your average backyard grill and get a decent idea all at once of how your yummies are progressing as they cook.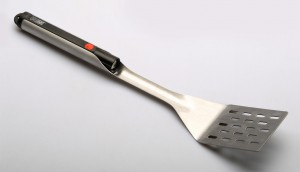 Grillight costs $29.95. That's not a terrible price for a high-quality grill spatula like this, let alone one with a removable LED flashlight aimed at helping you see better during night grilling. As for the whole lightsaber thing, I guess it's up to me to make the necessary modifications.
The following two tabs change content below.
Managing Editor | Mark is a freelance journalist based out of Los Angeles. He's our Do-It-Yourself specialist, and happily agrees to try pretty much every twisted project we come up with.
Latest posts by Mark Masker (see all)