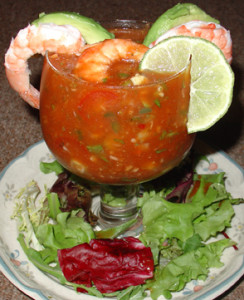 Baja California (which is actually Mexico) is home to numerous fishing ports and the cuisine reflects the abundance of fresh local fish and shellfish. This "martini" is a refreshing and spicy blend of shrimp, avocado, tomatoes, cilantro and lime… gazpacho with shrimp! (Crab meat could be substituted for the shrimp.) Although there are a number of ingredients for the sauce, it's well worth the effort. Serve in individual chilled glasses or in a large serving bowl.
Baja Shrimp Martini
Author:
Ingredients
1/2 pound extra-large (26/30) shrimp
1/2 cup water
1/2 cup white vinegar
2 tablespoons Old Bay® seasoning (or your favorite crab boil seasoning)
1 avocado, seeded
1 lime, sliced (for garnish)
For the sauce:
1 cup tomato & clam juice (such as Clamato®)
1/4 cup good-quality ketchup
2 large cloves garlic, minced (about two teaspoons)
1 green onion, finely diced
1 pickled jalapeño, finely diced
1 fresh serrano chile, finely diced
3/4 cup seeded and diced tomato
1/4 cup finely diced red onion
1/4 cup peeled, seeded and chopped cucumber
1/4 cup finely diced green, red or yellow bell pepper
2 tablespoons fresh lime juice
1 tablespoon minced fresh parsley
1 tablespoon minced fresh cilantro
1 tablespoon extra virgin olive oil
1 tablespoon prepared horseradish, well drained
1 teaspoon Mexican hot sauce (Cholula, Búfalo, Tapatio, etc.)
1 teaspoon Worcestershire sauce
1/2 teaspoon dried oregano
Instructions
In a 2 1/2-quart saucepan fit with a steamer rack, combine the water, vinegar and Old Bay®. Bring to a boil. Add the shrimp, cover and steam for about five minutes or until the shrimp are opaque.
Drain the shrimp and immerse in an ice bath to stop the cooking. When cooled, peel and devein the shrimp leaving the tails intact. Place the shrimp in a small bowl, cover tightly with food film and refrigerate.
Prepare the sauce by combining the ingredients in a large bowl, cover and refrigerate for at least one hour. (Sauce may be prepared two days in advance and stored covered and refrigerated.)
Reserve four shrimp for garnish (more if desired). Remove the tails from the remaining shrimp. Roughly chop the shelled shrimp and combine with the sauce; refrigerate, covered, at least two hours or up to six hours.
Slice one-half of the avocado and dice the remaining half. Add the diced avocado to the shrimp and sauce. Equally divide and spoon the shrimp and sauce into chilled glasses; garnish the rim of each glass with tailed shrimp, an avocado slice and a slice of lime.
The following two tabs change content below.
Grilling & BBQ Editor | Mike holds a "Doctorate of Barbeque Philosophy" (Ph.B.) degree from the Kansas City Barbeque Society. His book Mastering Barbecue has been called the "go-to" book for BBQ knowledge.
Latest posts by Mike Stines (see all)