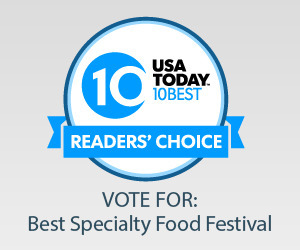 Yesterday, USA Today emailed us this notification: "Congratulations! National Fiery Foods & BBQ Show – Albuquerque is one of the nominees in our latest 10Best Readers' Choice travel award contest!" Anytime I see the words "congratulations" and "contest" in an email, my inner skeptic wakes the hell up. It's a conditioned reaction cultivated after I found out the truth about Santa one Christmas morning in the 1980s.
Next came scanning this email for the catch: "Our expert panel selected National Fiery Foods & BBQ Show – Albuquerque as one of 20 contenders for the Best Specialty Food Festival category, which just launched."
Oh.
Okay.
So I don't have to hit Dave up for cash to send to a Nigerian prince in order to claim our prize. Good. I'm still paying off the hospital bill from the last time I sent money to that nation's nobility on Dave's behalf. Still, there's no free ride anywhere, I thought. And I was right:
"Our contest, which is being promoted by USA TODAY, gives voters four weeks to vote for the candidate of their choice at http://www.10best.com/awards/travel/best-specialty-food-festival/. A person can vote once a day for the run of the contest." Aha! There it is!
So all I have to do is convince you, the reader, to vote for us (National Fiery Foods & BBQ Show – Albuquerque) online. That's not so bad as catches go.
Convincing you to vote for something you like should be pretty easy, am I right? The National Fiery Foods & BBQ Show is awesome. Each year, thousands of chileheads and barbecue lovers trek to the Sandia Resort in Albuquerque for three days of chef demos, tequila tasting, and the latest products. This is where each year's Scovie winners bring their award-capturing sauces, salsas, and rubs to the general public. Considering how many thousands of people journey out for the fun, the event runs very smoothly. And it's been a New Mexico institution for 26 years.
Voting ends Monday, September 1st, 2014 at 11:59am EDT and the winners will be announced on 10Best on Wednesday, September 3rd, 2014 at 11:59am EDT, then later on USA TODAY. Remember, you can vote here once a day, so vote early, and vote often.
The following two tabs change content below.
Managing Editor | Mark is a freelance journalist based out of Los Angeles. He's our Do-It-Yourself specialist, and happily agrees to try pretty much every twisted project we come up with.
Latest posts by Mark Masker (see all)