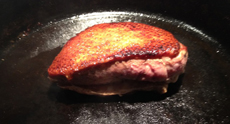 Thanksgiving is fast approaching but you're not a big fan of turkey so you need an alternative to the traditional cholesterol laden feast. Forget the turkey, the gravy, lumpy mashed potatoes and green bean casserole with cream of mushroom soup. Instead enjoy pan-seared duck breasts with a Cajun mustard sauce. Serve with apple-cornbread "stuffing," and sautéed green beans and peppers.
Seared Duck Breasts with Cajun Mustard
Author:
Ingredients
For duck:
2 duck breasts, about six ounces each
Coarse smoked kosher salt
Freshly ground smoked black pepper
For mustard:
1 cup duck stock (or 1/2 cup chicken stock and 1/2 cup beef stock)
1 tablespoon Dijon-style mustard
1/2 teaspoon Cajun seasoning
1/4 cup blonde roux
Instructions
Preheat the oven to 425 degrees F. Score the duck skin in a crosshatch pattern being careful not to cut into the meat. Season both sides of the breast with salt and pepper.
Place the duck breasts in a room temperature large ovenproof skillet (I prefer to use cast iron). Place the skillet on the burner and heat it over medium-low heat. Cook the duck, skin side down, for six to eight minutes pouring off the fat as it accumulates (save the fat). Continue cooking for another minute or two until the skin is nicely browned and crispy. Turn and cook for another two minutes. Pour off any additional rendered fat and place the duck in the oven for six to eight minutes. Turn the duck and cook, skin side down, for another minute. (The final temperature should be 145 degrees F.)
Remove the duck breasts from the oven and transfer to a serving plate. Tent with aluminum foil and allow the breasts to rest for five minutes before slicing.
For the mustard:
Make the roux by melting four tablespoons of unsalted butter in a small saucepan. Sift in 1/4 cup of all-purpose flour and cook, stirring constantly, until it forms a blonde roux. Remove from the heat and reserve.
In a medium saucepan over medium heat bring the stock to a low boil. Add the mustard and Cajun seasoning. Add the roux, 1/2 tablespoon at a time, until the sauce reaches the desired consistency (it should coat the back of a spoon).
Adjust seasoning as necessary (freshly ground black pepper would be a good addition). Add any pan dripping from the duck to the sauce.
Apple-Cornbread "Stuffing"
Author:
Ingredients
1 (8 1/2-ounce) box corn muffin mix
4 tablespoons unsalted butter, divided
1/2 cup chopped yellow onion
1/2 cup finely chopped celery
2 cups peeled, cored and chopped Granny Smith apples
1/2 teaspoon poultry seasoning (Bell's or similar)
1 teaspoon freshly ground black pepper
1 (10 3/4-ounce) can cream of chicken soup
1 cup whole milk
Instructions
Prepare cornbread as directed on the package. Set aside. When cooled, crumble the cornbread.
Preheat the oven to 375 degrees F.
Cook the onion and celery with one tablespoon of butter in a medium skillet until the onion is tender, about five minutes. Add the apples and cook another minute.
In a large bowl mix the apple mixture, poultry seasoning, pepper, the remaining butter, soup, milk and crumbled corn muffin. Spoon the stuffing into a greased casserole dish, cover with foil, and bake for 30 minutes. Remove the foil and continue baking for another 15 minutes.
Sautéed Pepper and Green Bean Medley
Author:
Ingredients
1/2 pound fresh green beans, trimmed
1 teaspoon olive oil
2 cloves garlic, coarsely chopped
1 shallot, mined
1/2 large yellow bell pepper, seeded and sliced into 1/2-inch strips
1/2 large red bell pepper, seeded and sliced into 1/2-inch strips
1/4 cup chicken stock (or white wine)
1 tablespoon unsalted butter
Coarse kosher salt and freshly ground black pepper
1 tablespoon chopped fresh oregano
Instructions
Place the green beans in a medium saucepan and cover with cold salted water. Bring to a boil and cook for three minutes. Drain and shock in ice water.
Heat the olive oil in a medium skillet over medium-high heat. Add the garlic and shallots. Cook, stirring, for one minute. Add the bell pepper. Add the chicken stock and cook, covered, until the peppers are tender, about four minutes. Add the drained green beans and butter; heat until warmed. Season with salt and pepper. Transfer to a serving dish and add the oregano.
The following two tabs change content below.
Grilling & BBQ Editor | Mike holds a "Doctorate of Barbeque Philosophy" (Ph.B.) degree from the Kansas City Barbeque Society. His book Mastering Barbecue has been called the "go-to" book for BBQ knowledge.
Latest posts by Mike Stines (see all)