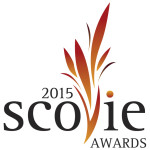 Competition for the 2015 Scovie Awards was tougher than ever, with a new record of 154 company entries, up from 151 in 2014. The total number of entries came to 790, slightly lower than in previous years. The total of companies winning at least one award was an all-time high at 123. Dave DeWitt, founder of the Scovie Awards and the National Fiery Foods and Barbecue Show said entries came from 31 US states and five countries including Australia, Canada, New Zealand, the United Kingdom and the United States.
Congratulations to the two grand prize winners of the 2015 Scovie Awards Competition, the 19th annual contest.
Tasting Division: Black Market Salsa, Albuquerque, New Mexico.
For additional information, go here: BlackMarketSalsa.com
Advertising and Marketing Division: Feisty Parrot Logo, Fort Lauderdale, Florida
For additional information, go here: FeistyParrot.com
The complete list of all the winners in every category is here.
The following two tabs change content below.
Publisher | Christened the "Pope of Peppers" by The New York Times, Dave DeWitt is a food historian and one of the foremost authorities in the world on chile peppers, spices, and spicy foods.
Latest posts by Dave DeWitt (see all)