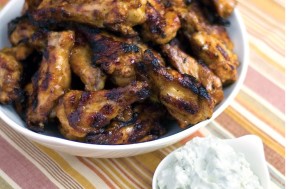 For those who truly appreciate the art of combining complex flavors and good old fashioned heat, feast your taste buds on this recipe for peach habanero wings. Combining the mild sweetness of peaches and the raw heat of habanero peppers, your local wing shop has nothing on these bad boys.
For more recipes and grilling techniques, visit kalamazoogourmet.com
Sweet and Spicy Habanero Hot Wings
Author:
Ingredients
4 lbs chicken wings
1 cup of wood chips, soaked in water for two hours
Marinade:
½ cup hot sauce (pick your favorite)
½ cup lemon juice (freshly squeezed works best)
¼ cup canola oil (Canola has a 400°F smoke point making it excellent for the grill)
8 cloves garlic, crushed
3 tbsp soy sauce
4 lbs chicken wings
Glaze
½ cup butter
1 cup peach preserves
2 tbsp brown sugar (light brown sugar works best)
4 fresh habanero peppers, quartered (It's important to wear gloves to protect your hands from the habaneros. Leave in the seeds for an additional level of heat.)
¼ cup bourbon spirits (pick your poison)
Instructions
Rinse your wings under cold water and pat dry with paper towels. Whisk together all marinade ingredients in a large mixing bowl and add wings, making sure to fully coat all of the wings. Cover and refrigerate 4 to 12 hours turning occasionally to ensure an even coating.
Prepare the grill by preheating for indirect cooking at 400-500°F. If you decide to use wood chips, go ahead and get them smoking now.
While the grill is reaching optimal temperature, you can start to prepare the glaze. Melt the butter in a medium saucepan over low heat, and add the preserves, brown sugar and habanero peppers, stirring constantly until the preserves have melted. Next, stir in your bourbon and keep your glaze over low heat, keeping warm until you are ready to baste the wings.
Place your wings in the indirect cooking zone of the preheated grill, and discard the marinade. Close the lid and maintain a 400-500°F grill temperature, turning the wings every 5 minutes for 20-25 minutes until the skin starts to crisp and the wings turn a nice golden brown. Continue cooking for 10 minutes, basting the wings with the bourbon glaze every 2 minutes. Move to direct heat to caramelize your basted wings in the final two minutes of grilling. Serve your wings with celery sticks and blue cheese dressing, or if you're like me, substitute the blue cheese for some ranch dressing. Enjoy!
The following two tabs change content below.
Managing Editor | Mark is a freelance journalist based out of Los Angeles. He's our Do-It-Yourself specialist, and happily agrees to try pretty much every twisted project we come up with.
Latest posts by Mark Masker (see all)