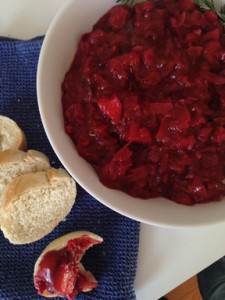 Writing and Photos by Matt LaBombard
If you're like me, you probably get tired of the regular boring cranberry sauce that most people serve at holiday dinners. You know the stuff that I'm referring to — that gelatinous, mushy cranberry mold that your grandmother plated up every year for as long as you can remember. The flavor isn't terribly bad, but I don't understand why something that is as easy to make as homemade cranberry sauce is so often purchased off a grocery store shelf. When the canned version is served alongside a delicious spread of Thanksgiving goodies, I'm the first to overlook it and move on to the next offering. So this year I decided to try something new: since I'm a fan of spicy foods, I thought I'd add jalapeños to my otherwise fairly sweet homemade sauce and the results were delicious. If you prefer another type of pepper, feel free to use that one. You really can't go wrong with this recipe!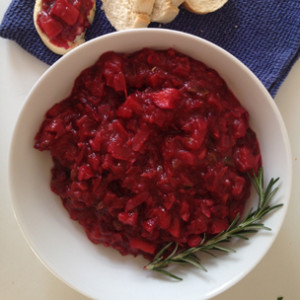 This Cranberry, Apple, and Jalapeño Sauce is hearty, flavorful, and strikes a nice balance between tart, sweet, and spicy. I add the traditional warming spices of cinnamon and nutmeg and toss in garlic, rosemary, and onions for a savory side dish that's great on any Thanksgiving table, and when you see how easy it is to make, you'll never go back to the canned stuff. I love to serve it on a fresh baguette, but it's good enough to eat on its own.
Cranberry, Apple, and Jalapeño Sauce
Author:
Ingredients
2 tablespoons extra virgin olive oil
1 cup chopped onions
1 teaspoon kosher salt
1/2 teaspoon freshly ground black pepper
1 tablespoon minced garlic
1 tablespoon minced fresh rosemary leaves
6 tablespoons minced jalapeño, seeds and ribs removed (about 2 jalapeños)*
1 tablespoon orange zest
1/2 cup freshly squeezed orange juice
1 teaspoon ground cinnamon
1/4 teaspoon ground nutmeg
1/2 cup brown sugar, lightly packed
3 cups sweet apples (like Gala or Empire), peeled and cut into 1/2 inch cubes
1 12-oz bag of cranberries, rinsed and picked clean of stems and leaves
2 cups water
Instructions
In a medium saucepan, heat the olive oil over medium-high heat. Add the onions, salt, and pepper and cook until translucent, about 7 minutes. Add the garlic, rosemary, and jalapeño and cook for 1 more minute. Add the orange zest and juice, cinnamon, nutmeg, brown sugar, apples, cranberries, and water.
Bring the mixture to a boil then reduce to a simmer and cook until the cranberries are soft, about 15-20 minutes. Serve right away or allow the mixture to cool before serving.
The following two tabs change content below.
Managing Editor | Mark is a freelance journalist based out of Los Angeles. He's our Do-It-Yourself specialist, and happily agrees to try pretty much every twisted project we come up with.
Latest posts by Mark Masker (see all)