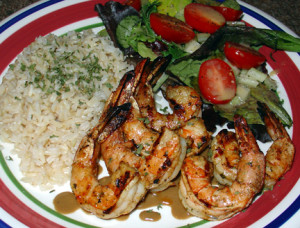 Shrimp are sold by size, the number of shrimp that make a pound. They are sold as U/8, U/12, 16/20, 21/25 and such with the "U' meaning under the number per pound. Adding confusion to the size is the variety of descriptions used for shrimp: Colossal (U-12), Jumbo (21/25), Large (31/35), Medium (41/50) and Small (51/60). For grilling I like to use jumbo or large shrimp.
For this recipe, thin strips of jalapeño chiles are inserted into the shrimp and the shrimp are marinated in a zesty marinade to add a little sweet heat. After marinating, the shrimp are wrapped in prosciutto (you could use bacon) and grilled.
Jalapeño Grilled Shrimp with Prosciutto
Author:
Ingredients
8 (U-16) shrimp, peeled and deveined, tails intact
4 slices prosciutto, sliced in half lengthwise
2 jalapeño chiles
1/4 cup olive oil
1/4 cup chili sauce
2 tablespoons minced green onion
2 teaspoons lemon juice
2 cloves garlic, minced (about two teaspoons)
1 teaspoon coarse kosher salt
1/2 teaspoon ground cayenne pepper
1/2 teaspoon freshly ground black pepper
1/4 cup minced green onions, for garnish
Instructions
Seed the jalapeños and finely slice one of the chiles into eight long pieces. Make a narrow slit in the back of each shrimp (where the vein used to be) and stuff the shrimp with one jalapeño slice. Finely dice the remaining jalapeño.
Combine the diced jalapeño, olive oil, chili sauce, minced green onions, lemon juice, garlic, salt, cayenne and black pepper in a medium mixing bowl. Allow the flavors to blend for one hour. Add the shrimp. Marinate, refrigerated and covered, for at least 15 minutes. Remove the shrimp from the marinade, reserving marinade.
Reheat the marinade in a small saucepan and simmer for five minutes.
Preheat the grill for medium-high heat direct cooking. Wrap each stuffed shrimp with prosciutto and place the shrimp on the cooking grate. Cook for two to three minutes per side or until the shrimp are barely opaque. Brush with the reheated marinade during cooking.
The following two tabs change content below.
Grilling & BBQ Editor | Mike holds a "Doctorate of Barbeque Philosophy" (Ph.B.) degree from the Kansas City Barbeque Society. His book Mastering Barbecue has been called the "go-to" book for BBQ knowledge.
Latest posts by Mike Stines (see all)