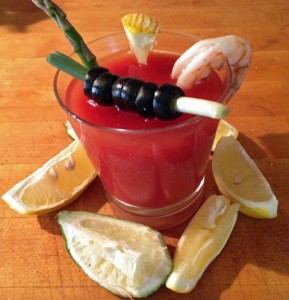 A Bloody Mary (or Caesar if your Canadian) is the ultimate brunch cocktail – along with Eggs Benedict it's the perfect addition to any Sunday morning.
When I was in graduate school in New Jersey there was would be called now a "dive bar" that served the perfect lunch… greasy hamburgers and the best Bloody Mary… it was heaven. I never got the Bloody Mary recipe but I've tried for about 40 years to recreate it and finally think I got pretty close.
Most sources point to Harry's New York Bar in Paris, where bartender Fernand Petiot reportedly originated this tomato cocktail. The name is also associated with a number of historical figures – particularly Queen Mary I of England. Some drink aficionados believe the inspiration for the name was Hollywood star Mary Pickford. Others trace the name to a waitress named Mary who worked at a Chicago bar called the Bucket of Blood.
There are a number of variations on the original:
Bloody Beer – Beer is used in place of the vodka
Bloody Bull – Beef broth or bouillon is added to a basic Bloody Mary
Bloody Caesar – Clam juice is added to a basic Bloody Mary
Bloody Derby – Bourbon is used in place of the vodka
Bloody Eight – V8 juice is used in place of plain tomato juice
Bloody Maria – Tequila is used in place of the vodka
Bloody Molly – Guinness is used in place of the vodka
Bloody Ninja – Sake is used in place of the vodka
Bull Shot – Beef broth is used in place of tomato juice
Chelada – Mexican beer is used in place of the vodka
Red Snapper – Gin is used in place of the vodka
Whiskey Mary – Whiskey is used in place of the vodka
This is my Bloody Mary recipe:
The Perfect Bloody Mary
Author:
Ingredients
2 ounces vodka (it doesn't need to be an expensive brand)
1/2 cup (4 ounces) tomato juice, V8 or Clamato
1/2 teaspoon hot sauce (Frank's Red Hot or Crystal are my preferences)
1 teaspoon Worcestershire sauce (Lee and Perrins is a good choice)
1/2 teaspoon fresh lemon juice
1/2 teaspoon smoked coarse kosher salt
1/4 teaspoon freshly ground black pepper
1/2 teaspoon horseradish
Old Bay seasoning
Green onion, for garnish
Lime or lemon wedges, for garnish
Instructions
Combine the vodka, tomato juice, hot sauce, Worchester sauce, lemon juice, salt, pepper and horseradish. Pour back and forth between two mixing glasses.
Rim a highball or hurricane glass with Old Bay or coarse salt and fill with ice. Strain the cocktail into the glass.
Garnish with a green onion and a lime wedge. (Pickled okra or asparagus are nice.)
Other garnish suggestions: pickled jalapeños, pickled beans, pepperoni stick, smoked cheese wedges, black or green olives, cucumber wedges, grape tomatoes pearl onions.
The following two tabs change content below.
Grilling & BBQ Editor | Mike holds a "Doctorate of Barbeque Philosophy" (Ph.B.) degree from the Kansas City Barbeque Society. His book Mastering Barbecue has been called the "go-to" book for BBQ knowledge.
Latest posts by Mike Stines (see all)