Yes, I know. It's been awhile since we've run regular news from the land of smoke and fire. What can I say? With 25-ish products to test after the Fiery Foods Show, Dave a-travelin', and me training up for competitions, we're a little busy. Don't worry, though. I'll make Hot News a regular thing again. Promise.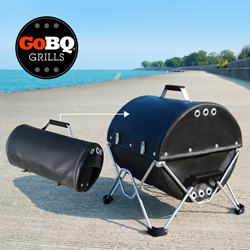 BBQ Ingenuity or Grilled Cheesiness? You Decide
How about a grill that rolls up into a cylinder the size of a duffle bag? That's what the GoBQ portable grill folds down to. The GoBQ Grill is a portable, packable grill made of heat and flameproof fabric that folds up like a camping chair to fit in a backpack or store in a drawer. With a basket for charcoal and a lid to trap heat, the 8 pound portable grill meets the basic criteria for cooking on the go. Personally, I'm a matches-and-firepit man when it comes to camping but others feel differently: the company's  Indiegogo campaign made its crowdfunding goal in less than a week. Find out more here.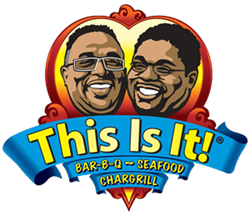 It Happens
The opportunity to own a This Is It! BBQ & Seafood restaurant is available to investors who wish to delve into the fast casual restaurant industry. Startup costs for a new This Is It! BBQ & Seafood franchise will range from $625,248 to $1,050,693. Franchise owners will receive assistance from I Believe This Is It!, including restaurant location selection, build out sourcing and consulting, confidential operations manuals, confidential recipes, training, purchasing through This Is It! BBQ & Seafood strategic suppliers, and ongoing support. For more info, go to the website.
Calling All Wingmen
Wingstop's new Serrano Pepper Glaze hits stores for a limited time only. This Latin-inspired sauce features a kick of fresh citrus and a roasted serrano pepper heat that lingers. Its saucy tang meets a fiery bang for those wing fans seeking an adventurous flavor experience. Check it out and let us know if it meets the hype.
Almost Famous
After the original Famous Dave's restaurant went up in a tragic inferno, founder Dave Anderson went back to his roots to start anew. He's not opening a Famous Dave's franchise, obviously, but he's going back to where he began: growing up barbecue. Jimmie's Old Southern Smokehouse Barbecue, named after Dave's father, will be located on Highway 63 in Hayward Wisconsin, the town where he built the Original Famous Dave's more than 20 years ago. Dave left the franchise after it went public and no longer has anything tying him to that establishment save his moniker. Find out the details here.
The following two tabs change content below.
Managing Editor | Mark is a freelance journalist based out of Los Angeles. He's our Do-It-Yourself specialist, and happily agrees to try pretty much every twisted project we come up with.
Latest posts by Mark Masker (see all)