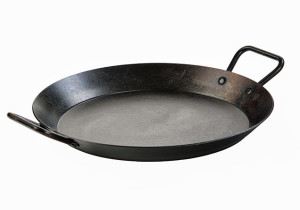 Paella is a classic Spanish rice dish while Cioppino is the San Francisco version but without the rice. Most recipes recommend using a dedicated paella pan for the task – a flat bottom shallow skillet.
One of the recipes I'm developing for the Fiery-Foods & BBQ SuperSite "Sizzling Seafood" series is paella and another is Cioppino so I needed a paella pan.
I don't own a paella pan but recently discovered an alternative… the Lodge pre-seasoned 15-inch seasoned steel skillet. It can be used on induction, ceramic, electric and gas cooktops, in the oven, on the grill, or even over a campfire or fire pit.
The 6 1/2-pound two-inch deep heavy gauge carbon steel skillet has a 12-inch flat bottom surface and two metal loop handles to assist in moving the pan from the stovetop or grill. One of the best features is the skillet is it's multi-use… in addition to paella, it can be used for regular sautéing, making fried rice and even cooking a large batch of scrambled eggs or Brioche French toast for a Sunday brunch.
One caveat, however, the handles get hot! You'll need to use pot holders or mitts when moving the pan and trivets to protect the countertop.
Unlike cast iron, soap can be used to clean the skillet. Adding a bit of canola or vegetable oil after washing and drying the skillet will improve the "seasoning" and retard any rusting.
Although most of my cookware is Calphalon hard-anodized aluminum and Lodge cast iron, I've used a Lodge 10-inch seasoned steel skillet for years and have been very pleased with its performance. I'm sure the new $90 skillet will be equally impressive.
The following two tabs change content below.
Grilling & BBQ Editor | Mike holds a "Doctorate of Barbeque Philosophy" (Ph.B.) degree from the Kansas City Barbeque Society. His book Mastering Barbecue has been called the "go-to" book for BBQ knowledge.
Latest posts by Mike Stines (see all)