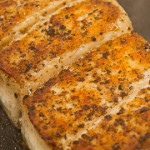 I love halibut but in some ways it's the boring sex life of seafood. Mild of flavor and straightforward without a lot of kinks, it's usually satisfying for one of the two parties involved but not both. You gotta spice halibut up to keep it interesting. Dave and Mike ran a great flounder recipe in an Asian seafood story on the Super Site so I shamelessly ripped off adapted it for halibut. It packs a real healthy burn, too.
Hot and Sour Halibut
Author:
Jeff Corydon collected this recipe in Indonesia.
Ingredients
2 1-lb halibut steaks
1 teaspoon coarse kosher salt
1 teaspoon ground cayenne
4 dried cayenne chiles, seeded, soaked in water until soft, and chopped
3 cloves garlic, minced
1 large onion, chopped
3 macadamia nuts
1 teaspoon ground ginger
1 teaspoon ground cumin
1/2 cup vegetable oil, divided
1/2 cup cider vinegar
1 teaspoon dry mustard
1 teaspoon granulated sugar
1 cup water
Instructions
Clean the fish, remove the head, but leave the skin on. Firmly rub some salt and cayenne pepper into both sides of the fish.
Place the chiles, garlic, onion, nuts, ginger and cumin in a blender or food processor and process.
Heat 2 tablespoons of the oil in a large skillet or wok and fry the chile paste over low heat for 2 to 3 minutes, stirring constantly. Add the vinegar, mustard, sugar and water; simmer, uncovered, for 15 minutes.
Meantime, heat the rest of the oil in another skillet and fry the fish over medium heat until both sides are golden brown.
Combine the fish with the sauce in the large skillet and simmer 2 to 3 minutes over low heat, basting frequently with the sauce. Serve immediately.
The following two tabs change content below.
Managing Editor | Mark is a freelance journalist based out of Los Angeles. He's our Do-It-Yourself specialist, and happily agrees to try pretty much every twisted project we come up with.
Latest posts by Mark Masker (see all)