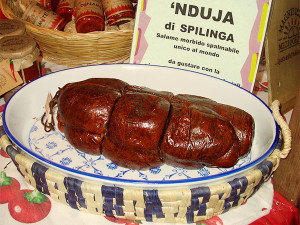 If you visit Calabria, particularly for the Peperoncino Festival in Diamante, you'll sooner or later discover an interesting pork sausage named 'Nduja. This is a spreadable sort of salami that has been made in southern Calabria for hundreds of years. At its inception, all sorts of less valuable parts of the pig were used, but today there are defined formulas using widely accepted parts, like lard and lean meat. Back then as well as today, hot chiles (peperoncini) were used not only to spice but also to preserve the product (very important in the ages without refrigeration in a hot climate). And if you taste 'Nduja for the first time, you'll be surprised how hot it is. That's no wonder – it has a hot pepper content of a whopping 25 percent! Preservation and flavor also benefit from smoking the soft sausage over olive, oak, beech or acacia wood, followed by a resting period of up to 60 days.
At the Peperoncino Festival there's plenty of opportunity for tasting 'Nduja. Some of the best still comes from Spilinga in southern Calabria, where 'Nduja originated. In 2008, a 'Nduja manufacturers consortium was founded there to protect and promote the product, and to seek DOP certification, very much like Roquefort cheese, Champage or Nuernberger Bratwurst enjoy regional origin protection.
'Nduja is not only sold in intestines like many other sausages. Because it is spreadable, it is also available in jars. In that form, various Italian specialty stores are offering the product also outside Italy. If you like spicy, be sure to give it a try. And don't miss it if you travel to Southern Italy.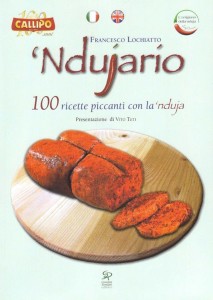 At a Diamante trattoria we had wonderful "penne al'arrabbiata", prepared with 'Nduja. But there's so much more you can do with this unique product. If you want to learn more about 'Nduja: Francesco Lochiatto, a native Calabrian now living in Tuscany, wrote "'Ndujario", a book about the history and production of 'Nduja, and no less than 100 recipes using the sausage (ISBN 978-88-86046-59-6). Recipes include many traditional dishes, but also creative uses including cocktails and desserts. A big plus: the book is in both Italian and English language, both side by side. Molto interessante!
`Nduja is available here.
The following two tabs change content below.
European Chilehead Editor at Large | Harald's Chili Pepper Buch 2.0 is the bestselling chile book in German-speaking Europe. He covers European chilehead culture and his own spicy kitchen encounters for Burn Blog.
Latest posts by Harald Zoschke (see all)