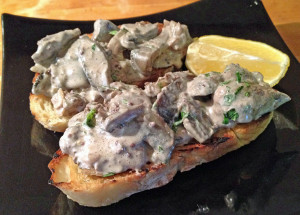 Looking for a unique appetizer that goes back to the Victorian era but is rarely served today? Try chicken livers at your next cocktail or dinner party.
I first had chicken livers as an appetizer at The Pheasant in Gestingthorpe, England, where we stayed for my daughter's wedding a few years ago. At The Pheasant the chef uses reduced beef gravy, heavy cream and Cajun spice for the livers.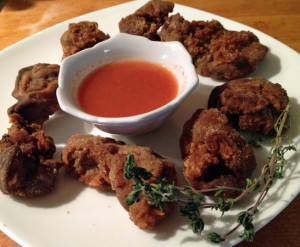 I made two variations: devilled livers with a mushroom-cream sauce and southern-style sautéed breaded livers.
Devilled livers with mushroom-cream sauce
Author:
Ingredients
1 pound fresh chicken livers (about 12 livers)
2 tablespoons clarified butter
1/2 cup minced yellow onion or shallot
10 ounces mushroom stems and pieces, canned or fresh
2 teaspoons Worcestershire sauce
2 teaspoons coarse ground Dijon-style mustard
1/2 teaspoon ground cayenne
3 tablespoons bread crumbs
1/2 cup heavy cream
1/2 teaspoon coarse kosher salt
1/2 teaspoon freshly ground black pepper
Instructions
Place livers in a colander and gently rinse with cold water. Clean each liver by removing any connective tissue, fat and soft parts, leaving firm pieces of liver. (Use a very sharp knife, as livers will break apart quite easily.) Roughly chop the livers.
Heat a medium skillet over medium heat and add the butter. When the butter stops shimmering add the onion/ shallot and cook until the onion is softened but not browned, about three minutes. Add the mushrooms and cook briefly.
Raise the heat to high and add the livers. Fry the livers quickly, about two to three minutes.
Take the skillet off the heat and add the Worcestershire sauce and Dijon mustard, cayenne pepper, bread crumbs, cream, and finally salt and pepper. Mix well and check the seasonings (another dash of cayenne might be good depending how devilled you want the livers).
Divide the livers and sauce between ramekins (two eight-ounce size for entrée servings, four smaller ramekins for appetizers) and sprinkle with more bread crumbs and melted butter. Bake in a preheated 375 degrees F. oven for five to10 minutes or until the sauce is bubbly. Serve with toast points or crusty baguette slices to sop up all the delicious sauce.
Sautéed Breaded Chicken Livers
Author:
Ingredients
1 pound chicken livers (cleaned, rinsed and drained well)
1 cup buttermilk
1 tablespoon hot sauce
1/2 cup all-purpose flour or panko
3/4 teaspoon coarse smoked kosher salt
1/2 teaspoon smoked paprika
1/2 teaspoon ground cayenne
1/2 teaspoon freshly ground black pepper
1/2 teaspoon dried thyme leaves (or 1 1/2 teaspoons fresh)
Bacon grease or cooking oil (enough to fill 1/2 of the skillet)
Instructions
Mix the buttermilk and hot sauce in a bowl. Add the livers and marinate for one hour. Drain the livers and discard the marinade.
Combine flour or panko, salt, paprika, cayenne, black pepper and thyme in a resealable bag. Add livers and toss gently until the livers are covered with the flour mixture. (Use panko if you want very crispy livers.)
Heat the bacon grease in a deep skillet over medium-high heat to 350 degrees F. (My Calphalon deep skillet needs about two cups of oil to fill it half-way.) Add the livers, in batches, and sauté for two to three minutes, turn and sauté the other side for about the same time. Repeat until all the livers are cooked. (You may want to use a splatter screen as the livers tend to pop when cooking.)
Do not overcook the livers. They should be pink inside, but not oozing blood. Drain the livers on paper towels and serve with hot sauce.
The following two tabs change content below.
Grilling & BBQ Editor | Mike holds a "Doctorate of Barbeque Philosophy" (Ph.B.) degree from the Kansas City Barbeque Society. His book Mastering Barbecue has been called the "go-to" book for BBQ knowledge.
Latest posts by Mike Stines (see all)