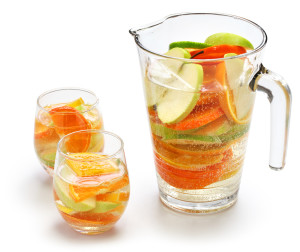 If you haven't built up the confidence to be a full-fledged home bartender, summer is a perfect opportunity to get wild with pitcher drinks that require very little skill at all.
The greatest and most forgiving pitcher cocktail is easily a Sangria, which is probably second only to the margarita in its accessibility and popularity when pairing with spicy food.
Rooted in Spanish and Portuguese history mainly, Sangria's name based on the Spanish word for blood. You'll also see Sangarees in older cocktail books, like Jerry Thomas' Bartenders Guide, which is just an English twist on the same word.
Ultimately, Sangria (or Sangaree) is a punch with wine as the primary ingredient. While Sangrias are normally based on red wine, it's more and more common to see a White Sangria at a pool party or barbeque nowadays.
Let me just say that it's very difficult to screw up a Sangria. If you add a bunch of wine, some sweetener, some citrus and a ton of fruit, a touch of hard liquor, you'll have a great Sangria that everyone will enjoy Play with the ratios and experiment with different ingredients and you'll love the result. I really like fizz in pitcher drinks, so I either use a bubbly wine or add some club soda to the pitcher…or both.
Here's my favorite White Sangria recipe, which I make pretty often in the summer.
White Sangria!
Author:
Ingredients
1 bottle of white wine (I prefer the fizzy Vinho Verde)
6 oz of club soda
6 oz of apple juice
2 ounces each of lemon, lime, and orange juice
2 oz of a citrusy gin, like Tanqueray 10
Lots of cubed apples, lemon wheels, and lime wheels
Instructions
Combine the above in a large pitcher.
Let the pitcher sit for at least an hour before serving.
Serve on ice with the citrus wheels!
Greg Mays is the Managing Editor of www.simple-cocktails.com.
The following two tabs change content below.
Cocktail Editor | Greg is the classic cocktail aficionado and recipe developer at Simple Cocktails, his "place for the intimidated home bartender to shed some fear."
Latest posts by Greg Mays (see all)