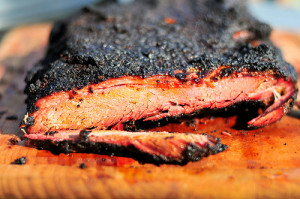 Pitmasters labor their entire careers to make the perfect brisket but a Harvard engineering class seems to have done just that in a single semester. It's the sort of problem I would have loved to have faced in a college class. Unfortunately, my biggest post-high school food problem was what to mix with the day's ramen noodles so that it tasted less like prior day's ramen noodles.
Engineering the perfect brisket was a design problem put forth by Kevin Kit Parker over three years ago. The 16-student barbecue team put in 15 hour days throughout the semester as they worked with computers, conventional smokers, and outdoor temps that at times sunk below zero. Over 220 pounds of brisket volunteered for testing, too.
Their smoker is far more science than the mish-mash artful smokers you see at a typical KCBS competition. That's what inspired Parker in the first place. The Southern-raised professor took note of the smokers used at the competition he was judging in Memphis a few years ago. Inspiration hit later for applying science to designing the "perfect" smoker. Support hit when Williams-Sonoma sponsored the project, providing tools from aprons and a badass kitchen/lab to the meat. Countless brisket smoking computer simulations led to its birth. You can see a graph of how it works here.
On the surface, the quest for the perfect barbecue brisket may not sound like a good candidate for a college science course. Think about it for a second, though. Barbecue involves heat transfer and chemistry. Applying materials science and prototyping seems like a great way to get consistent results.
The following two tabs change content below.
Managing Editor | Mark is a freelance journalist based out of Los Angeles. He's our Do-It-Yourself specialist, and happily agrees to try pretty much every twisted project we come up with.
Latest posts by Mark Masker (see all)