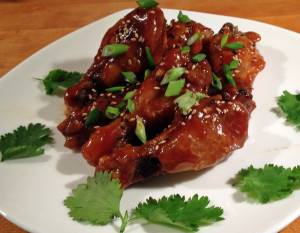 I'm a big fan of chicken wings but not so much Buffalo-style wings so I thought I'd get creative for an upcoming cookout and add some sweet and spicy Asian-style glaze to steamed and baked chicken wings. (Of course, the wings could be deep-fried but deep frying is time-consuming and tends to get expensive unless you're doing a bunch of wings or frying other things.)
Plan on serving a combination of ten flats and drumettes per person.
Chicken Wings with Asian Glaze
Author:
Ingredients
2 pounds chicken wings
For the glaze:
3 tablespoons rice wine vinegar, divided
2 tablespoons red wine vinegar
2 tablespoons hoisin sauce
2 tablespoons honey
2 tablespoons grated ginger
2 tablespoons unsalted butter
1 tablespoon brown sugar
2 cloves garlic, minced (two teaspoons)
2 teaspoons reduced sodium soy sauce
2 teaspoons Sriracha, or to taste
2 teaspoons fish sauce
1 teaspoon cornstarch
1 tablespoon sliced scallions, for garnish
1 tablespoon toasted sesame seeds, for garnish
Instructions
Combine cornstarch and one tablespoon rice wine vinegar in a small bowl. Whisk until smooth.
In a one-quart saucepan, mix together the glaze ingredients and bring to a simmer over medium heat. Add the cornstarch slurry and cook, stirring, until the sauce thickens, about two minutes. (This will yield about 3/4 cup of sauce.)
Cut the chicken wings into sections at each joint separating the flat from the drumette, discarding the tips (or reserving for stock). Remove any extraneous fat from the wings. Thoroughly wash the cutting board, knife and your hands after handling raw chicken.
Add two inches of water to a small stockpot or large saucepan. Insert a steamer basket in the pot and bring the water to a boil over medium-high heat. Add the chicken pieces, cover, and steam for ten minutes. Allow the chicken to cool slightly and remove the small bone from the flats.
Place the wing sections on a rack over and baking sheet. Transfer the wings to a heated 425 degree F. oven and roast for ten minutes. Turn the wings and cook another ten minutes. Toss the chicken wings with the sauce and serve. Garnish with bias-sliced scallions, cilantro leaves and toasted sesame seeds.
The following two tabs change content below.
Grilling & BBQ Editor | Mike holds a "Doctorate of Barbeque Philosophy" (Ph.B.) degree from the Kansas City Barbeque Society. His book Mastering Barbecue has been called the "go-to" book for BBQ knowledge.
Latest posts by Mike Stines (see all)