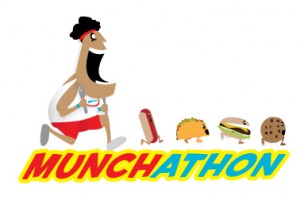 Eat your way through the first-ever Munchathon, a food-themed fun run and obstacle course featuring local food and beverage vendors, which takes place at Oak Canyon Park, near Irvine Lake, California on July 16. The event will have two major elements: the 5K run/walk with food/beverage stops and food-themed challenges, and a festival featuring dozens of gourmet food trucks.
This event was designed for those of you who love food, follow more gourmet food trucks than actual people on Twitter, dash to your favorite restaurant despite your non-existent lunch break, devour whatever might be in arm's reach at that very moment and consider yourself the ultimate foodie.
Run, walk, skip and munch your way through the scenic course overlooking Irvine Lake. Obstacles and stops along the way offer the opportunity to eat sample-size food items from gourmet food trucks and other vendors. You can also expect beverage stops along the course as well. Get a team together or go solo, dress up as bananas or hot dogs or piggies—whatever gets you pumped—and bring your appetite. After the run, participants will have access to a festival of gourmet food trucks, beverages, entertainment, vendors and lots more.
There are only two rules: dash and devour. Only the strongest appetites will survive. Munchathon is open to all ages. The 5K fun run goes from 9 a.m. to 11 a.m. Early admission to the festival is from 10 a.m. to 11 a.m. and general admission starts at 11 a.m.  The event ends at 5 p.m. To register for the 5K fun run/obstacle course (which allows access to the festival portion of the event) or to purchase tickets for the festival, go to munchathon.com, or check out @Munchathon on Twitter, or see Munchathon on Facebook.
The following two tabs change content below.
Managing Editor | Mark is a freelance journalist based out of Los Angeles. He's our Do-It-Yourself specialist, and happily agrees to try pretty much every twisted project we come up with.
Latest posts by Mark Masker (see all)