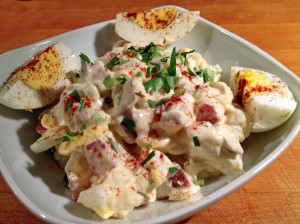 Potato salad is a dish made from boiled potatoes that comes in many versions in different regions of the world. Though called a salad, it is generally a side dish, as it usually accompanies the main course.
Potato salad is often served with barbecued ribs, hot dogs, fried chicken, hamburgers and cold sandwiches. Potato salad, along with cole slaw and potato chips, is common fare at picnics, barbecues, cook outs and other informal meals. Inexpensive to make, potato salad must be kept refrigerated until serving.
How to Hard Boil Eggs
Hard-boiled eggs are not difficult to make but often the egg shells are difficult to remove leaving the egg looking like the surface of the moon. There is a solution… add some baking soda to the water and don't boil the eggs for the entire cooking process. Eggs about a week old make better hard-boiled eggs than farm-fresh eggs.
Place the eggs in a single layer at the bottom of a saucepan. Cover with at least an inch of cold water. Add one teaspoon of baking soda to the water.
Heat the saucepan over high heat and bring the water to a full rolling boil. Turn off the heat; keep the pan on the hot burner, cover, and let sit for 14 minutes. (If softer hard-boiled eggs are desired, only cook for about 10 to 12 minutes.)
(Although usually served cold, the Southern German variation (Kartoffelsalat) is served warm and made with potatoes, vinegar, oil, bacon, parsley, red onion and topped with minced chives.)
Jalapeno Potato Salad
Author:
Ingredients
2 cups cubed Red Bliss potatoes
1/2 cup good-quality mayonnaise (Hellman's or Best Foods)
1 tablespoon rice vinegar
1 teaspoon kosher salt
1/2 teaspoon granulated sugar
1/2 teaspoon granulated garlic
1/4 cup diced yellow onion
1/2 cup diced celery
2 tablespoons diced pickled jalapeño
2 tablespoons minced fresh parsley
1 1/2 tablespoons sweet relish
1 tablespoon prepared (ballpark) mustard
1 teaspoon caraway seeds
2 eggs, boiled and chopped
Instructions
Cook the potatoes in boiling salted water for 12 minutes or until fork tender. Drain and rinse under cold water to stop the cooking. Drain well.
Combine the mayonnaise, vinegar, salt, sugar and granulated garlic in a medium mixing bowl. Stir in potatoes, onion, celery, jalapeño, parsley, relish, mustard and caraway seeds.
Top with chopped or sliced eggs and sprinkle with paprika for color.
The following two tabs change content below.
Grilling & BBQ Editor | Mike holds a "Doctorate of Barbeque Philosophy" (Ph.B.) degree from the Kansas City Barbeque Society. His book Mastering Barbecue has been called the "go-to" book for BBQ knowledge.
Latest posts by Mike Stines (see all)