Here's some of the latest news and items from the world of chiles, smoke, and fire.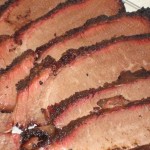 When Cows Fly
A brisket at a Kentucky barbecue competition was the tragic victim of violence when its pitmaster hit it with a woman's face. There's no word on what the brisket may have said or done to trigger the violence, although Mike Owings, the culprit in question, said he'd lost his temper. Apparently, he was sharing a cooker with a fellow competitor, got angry, threw it at her, and hit her in the head, neck, and shoulder with the poor brisket, which was between 200-250 degrees F at the time. Owings was charged with misdemeanor wanton endangerment. He totally should be–that's a terrible way to treat a brisket. Find out more here.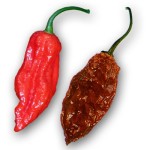 Be Cool
While the rest of the chile pepper industry races to breed hotter and hotter peppers, Smoking J's Fiery Foods swims against the current. Yes, they grow superhots just like everyone else. However, they're also chasing peppers with less heat to really let the flavor shine. Right now, they're doing so with jalapenos and habaneros. Check out their website for more info.
Ghost Nuts
No, not the kind that ID a dead spirit's gender. I'm talking about the sweet doughy kind. Chicago's doughnutery Glazed and Infused says they make the world's hottest donut. It's a house of pain founded on sweet dough packed with habanero, scorpion, Carolina reaper, and red savina peppers. The roof is a chocolate-dipped habanero pepper. For more information, click here.
Midsummer Night's Scream
I'm guessing that like many other directors, Rosie Collins secretly likes to torture actors. Why else would she create a video series named #ChilliMonologues with actors reading Shakespeare while eating peppers like Scotch Bonnets and scorpions? Check it below.

The following two tabs change content below.
Managing Editor | Mark is a freelance journalist based out of Los Angeles. He's our Do-It-Yourself specialist, and happily agrees to try pretty much every twisted project we come up with.
Latest posts by Mark Masker (see all)